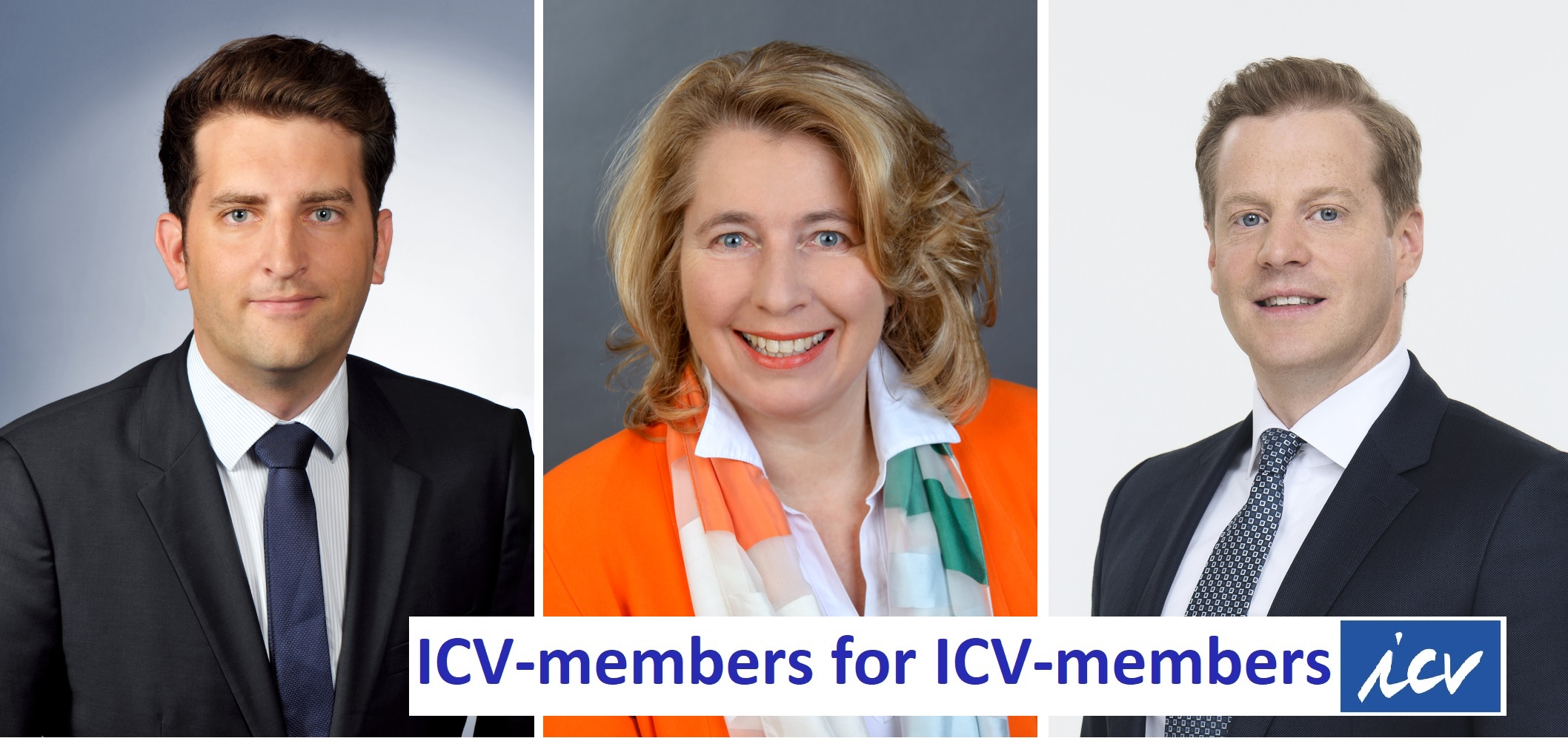 Die Coronakrise hält Unternehmen fest in ihren Krallen. Bei der Krisenbetroffenheit gibt es Unterschiede z.B. zwischen den Branchen. Auch bei den Phasen des Krisenmanagements herrscht nicht überall die gleiche Situation. ICV-Expert*nnen helfen Klarheit zu schaffen.
In einem Webinar der ICV-Ideenwerkstatt am 19. Mai, 16-17 Uhr, werden die verschiedenen Phasen des Krisenmanagements,
Überleben sichern
Stabilisierung
Neuausrichtung Geschäftsmodell
Neustart
genauer betrachtet: Was charakterisiert sie und – vor allem – welche Rolle spielen dabei jeweils die Controller*innen?
Die Webinar-Inhalte sind top-aktuelle Arbeitsergebnisse des ICV-Think-Tanks. Die sind dieser Tage in einer Sonderpublikation des Ideenwerkstatt | Quarterly vorab skizziert worden.
Präsentieren werden im Webinar:
Claudia Maron, DATEV e.G., ICV-Regionaldelegierte Süd (Bild Mitte)
Christoph Munck, EBS, ICV-Ideenwerkstatt, Moderator dieses Webinars (Bild links)
Stefan Tobias, Horváth & Partner GmbH, ICV-Ideenwerkstatt (Bild rechts)
Sichern Sie sich wichtiges Wissen und registrieren Sie sich bitte gleich hier zum ICV-Ideenwerkstatt-Webinar. Sie erhalten anschließend umgehend Login-Informationen und -Links.
Das Webinar im Rahmen der ICV-Corona-Initiative steht unter dem Motto "Von ICV-Mitgliedern für ICV-Mitglieder". Wir bieten aber auch Noch-nicht-Mitgliedern die Chance, bitten diese, dem ICV Internationaler Controller Verein beizutreten.
The corona crisis holds companies firmly in their claws. There are differences when it comes to the crisis, e.g. between industries. Even in the phases of crisis management, the situation is not the same everywhere. ICV experts help to create clarity.
In a webinar of the ICV Think Tank on May 19, 4-5 p.m., the experts give a closer look at the different phases of crisis management,
Securing survival
Stabilization
Realignment of business model
Restart
What characterizes them and – above all – what role do the controllers play?
The webinar content is the latest work from the ICV Think Tank. They have been just published in a special publication of the Think Tank Quarterly (also in English).
Speakers in the webinar:
Claudia Maron, DATEV e.G., ICV Regional Delegate Germany South
Christoph Munck, EBS, ICV Think Tank
Stefan Tobias, Horváth & Partner GmbH, ICV Think Tank
Take advantage of important knowledge and register right here for the ICV Think Tank webinar. The ICV Office then sends you the login information and links.
The webinar within the ICV Corona Initiative is themed "From ICV members for ICV members". However, we also offer not-yet members the opportunity to take part and ask them to join the ICV International Association of Controllers.