(Dr. Hans-Jürgen Hillmer hat sich 2019 als Live-Blogger vom 44. Congress der Controller zur Verfügung gestellt.)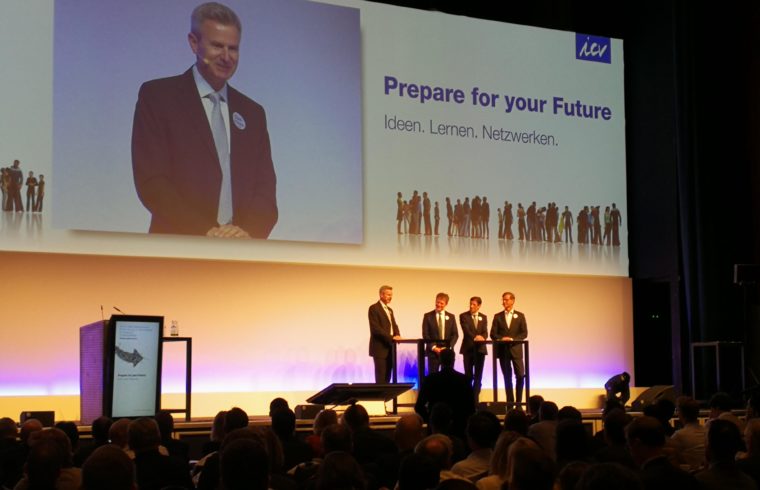 Unter der Moderation von Dr. Klaus Eiselmayer (Mitglied des Vorstands der CA Akademie AG, des ICV und der IGC) ergab eine Podiumsdiskussion einen lebhaften Erfahrungstausch mit folgenden Kernpunkten:
Prof. Dr. Stefan Asenkerschbaumer (Stellvertretender Vorsitzender der Geschäftsführung
Robert Bosch GmbH, Stuttgart): Veränderungsnotwendigkeiten müssen durch intensive Kommunikation in den verschiedenen Bereichen gestützt werden. Bereits fortgeschrittene Bereiche haben eine Pilot-Funktion zu erfüllen, damit andere Bereiche nachziehen können. Controller sind sehr früh einzubinden, nicht erst dann, wenn "gerechnet" werden muss. Personalsuche muss auf Informatiker und Mathematiker fokussiert werden, die klassisches Controllingwissen ergänzen. Es kommt seiner Überzeugung nach auf die Unterstützung der Geschäftsentwicklung an. Führungskräfte müssen sich mit den Benchmarks außerhalb des Unternehmens auseinandersetzen.
Prof. Dipl.-Ing. Dr. Heimo Losbichler (Vorsitzender des ICV-Vorstands und der IGC):
Business-Partner-Rolle muss ausgefüllt werden, da sonst kein Mehrwert mehr lieferbar sein wird. Losbichler zeigte sich skeptisch hinsichtlich der frühzeitigen Einbeziehung von Controllern, denn die Erfahrung zeige, dass das in der Praxis meist erst später erfolge. In der Ausbildung müssen die digitalen Kompetenzen gestärkt werden, da muss gerade an Hochschulen noch viel getan werden.
Dr. Richard Lutz (Vorstand Deutsche Bahn, Mitglied des ICV-Kuratoriums): Das Screening neuer Geschäftsmodelle muss frühzeitig durch die Analyse finanzieller Auswirkungen begleitet werden. Technologische und finanzielle Projektexperten sollten von Anfang an zusammenarbeiten. Denkmuster einer linearen Fortschreibung der Gegenwart müssen aufgebrochen werden: "You learn as you go". Netzwerk-Aktivitäten des ICV sind als Vorbild dessen anzusehen, was in der Praxis der Wissensvermittlung getan werden muss. Controller dürfen nicht abwarten, bis die Digital-Experten "die Butter vom Brot nehmen". Vorhandene Zugänge zur Geschäftsführungskompetenz müssen im Wege aktiver Gestaltung genutzt werden. Dann weist die Zukunft deutlich mehr Chancen auf als Risiken, die es allerdings auch gibt.
(Dr. Hans-Jürgen Hillmer offered himself as a live blogger from the 44th Congress of Controllers 2019.)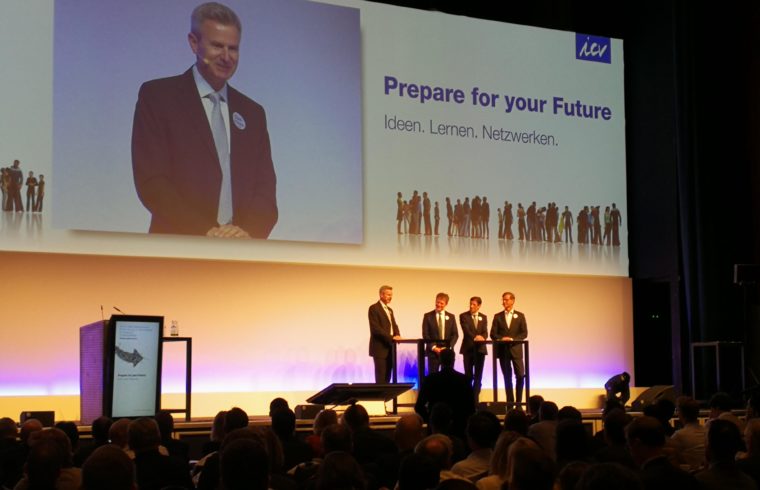 Moderated by Dr. Klaus Eiselmayer (Member of the Board of the CA Akademie AG, the ICV and the IGC) a panel discussion gave the participants a lively exchange of experience with the following key points:
Prof. Dr. Stefan Asenkerschbaumer (Deputy Chairman of the Management Board Robert Bosch GmbH, Stuttgart): Change needs to be supported by intensive communication in different areas. Even advanced areas have to fulfill a pilot function so that other areas can follow. Controllers are to be integrated very early, not only when something has to be "calculated". Employees search must be focused on computer scientists and mathematicians who complement classical controlling knowledge. Asenkerschbaumer is convinced that it is about supporting business development. Managers have to look for benchmarks outside the company.
Prof. Dipl.-Ing. Dr. Heimo Losbichler (Chairman of the Board at the ICV and the IGC):
Business partner role must be completed, otherwise no additional value will be available. Losbichler was skeptical about the early inclusion of controllers, because experience shows that in practice it happens usually later. In education, digital skills need to be strengthened, so much more needs to be done at universities.
Dr. Richard Lutz (Board Member Deutsche Bahn, Member of the ICV Board of Trustees): The screening of new business models must be accompanied at an early stage by analyzing financial effects. Technological and financial project experts should work together from the start. Thinking patterns of a linear continuation of the present must be stopped: "You learn as you go". Network activities of the ICV are to be seen as a model of what needs to be done in the practice of knowledge transfer. Controllers must stand up against digital experts. Existing access to management competence must be used by way of active design. Then the future has far more chances than risks.