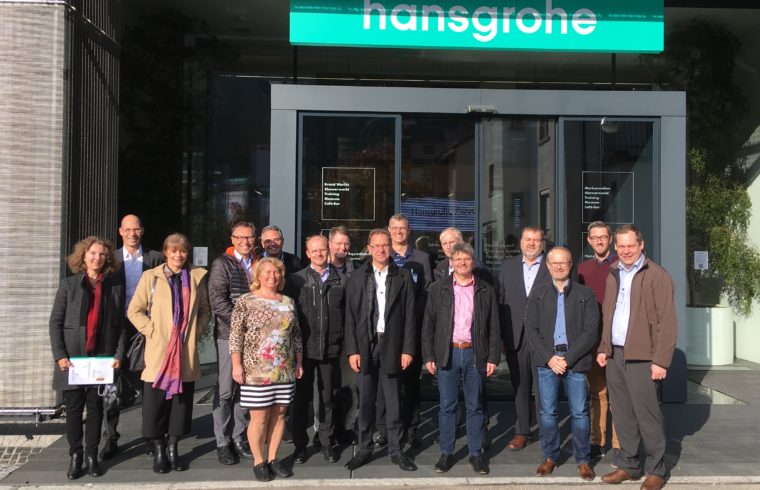 Der regionale Arbeitskreis Stuttgart im Internationalen Controller Verein (ICV) hat sich bei der Hansgrohe SE in Schiltach getroffen. Olaf Leistert, Leiter des AK Stuttgart, hat dazu folgende Nachricht gesendet, für die wir uns herzlich bedanken!
Zur 70. Arbeitskreissitzung traf sich der ICV AK Stuttgart am 16. November bei der Hansgrohe SE in Schiltach (Kreis Rottweil). Viele Teilnehmer haben sich bereits am Vorabend in Schenkenzell eingefunden, um sich in geselliger Runde untereinander auszutauschen. Der Schwerpunkt der Arbeitskreissitzung lag auf dem Themengebiet "Planung", zu dem drei AK-Mitglieder mit Erfahrungsberichten aus ihren Unternehmen vortrugen.
Eingebunden in die Sitzung war eine Werksbesichtigung. Die Teilnehmer konnten im Rahmen eines Rundgangs die gesamte Wertschöpfung im Produktionsprozess von Produkten der Produktlinie AXOR einsehen.
Im Rahmen eines Workshops erarbeiteten die Mitglieder Problemstellungen und dazugehörige Lösungsansätze im aktuellen Planungsprozess. Zudem warfen sie auch einen Blick in die "Planung der Zukunft".
Die Teilnehmer bedanken sich bei der Hansgrohe SE sowie dem AK-Mitglied Jürgen Dierolf als Gastgeber der Tagung.
The regional work group Stuttgart at the International Association of Controllers (ICV) met at Hansgrohe SE in Schiltach. Olaf Leistert, Head of the WG Stuttgart, sent us the following message, for which we would like to thank!
The ICV WG Stuttgart met on November 16 at the Hansgrohe SE in Schiltach (Rottweil district) for the 70th work group meeting. Many participants have already gathered in Schenkenzell the evening before to socialize with each other. The main focus of the work group meeting was on the topic of "planning", on which three WG members presented reports from their companies.
A factory tour was involved in the session. As part of the tour the participants were able to see the entire added value in the production process of products of the AXOR product line.
As part of a workshop, the members worked out problems and related solutions in the current planning process. They also took a look into the "planning of the future".
The participants would like to thank the Hansgrohe SE and the WG member Jürgen Dierolf as hosts of the conference.