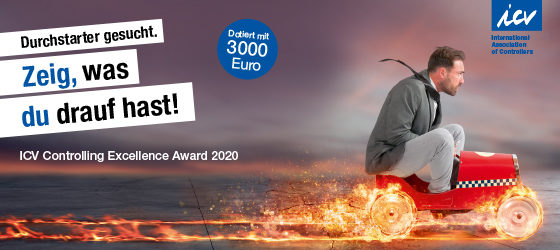 Noch bis diesen Freitag, 31. Januar, können die Unterlagen für den mit 3.000 Euro dotierten ICV Controlling Excellence Award eingereicht werden. Er wird alljährlich für "vorbildliche Controllerarbeit in Unternehmen und anderen Organisationen" ausgeschrieben. Verliehen wird er traditionell bei der zentralen Veranstaltung des ICV, dem Congress der Controller, der in diesem Jahr am 27. und 28. April – wie immer in München – stattfindet. Neben dem Preisgeld ist sicherlich ein besonderes "Schmankerl", dass die drei Endplatzierten im Wettbewerb um den Awardgewinn Gäste des ICV beim Congress der Controller sind. Sie können ohne die sonst übliche Teilnahmegebühr alle Vorträge und Themenzentren besuchen, auch die Verpflegung im Rahmen des Congresses übernimmt der ICV für die eingeladenen drei Nominierten. Lediglich die Übernachtungskosten sind selbst zu tragen.
Zur Ausschreibung des ICV Controlling Excellence Awards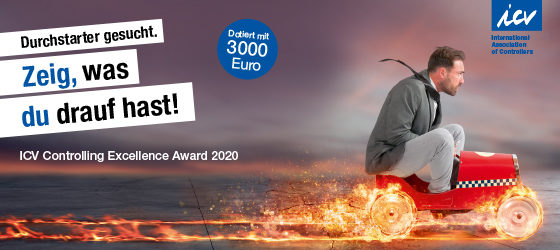 Until Friday, January 31, you can submit the documents for the ICV Controlling Excellence Award, which is endowed with 3,000 euros. It is given every year for "exemplary controller work in companies and other organizations". It is traditionally awarded at the central event of the ICV, the Congress of Controllers, which this year takes place on April 27 and 28 – as always in Munich. In addition to the prize money, it is certainly a special "treat" that the three finalists in the competition are guests of the ICV at the Congress of Controllers. You can attend all speeches and clusters without the usual participation fee, and the ICV take care also of catering for the invited three nominees as part of the Congress. You have to cover by yourself only accommodation costs.
Compete for the ICV Controlling Excellence Award