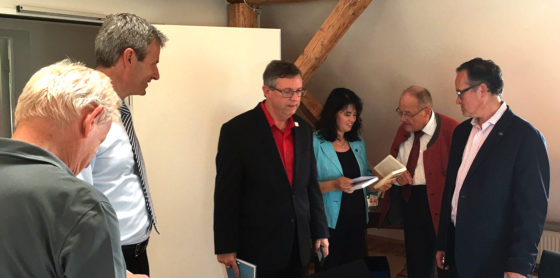 Topmanager des Institute of Management Accountants (IMA) haben den deutschen Controlling-Pionier Dr. Dr. h.c. Albrecht Deyhle (2.v.r.), Mitbegründer und Ehrenvorsitzender des ICV, besucht. An dem Treffen in der Geschäftsstelle von CA controller akademie und Internationalem Controller Verein (ICV) in Wörthsee bei München mit Jeff Thomson (Bild Mitte), CEO and President der IMA, Jim Gurowka (rechts), Senior Vice President, Global Business Development, und Nina Michels-Kim (3.v.r.), CMA, Director, European Operations IMA Europe, nahmen Spitzen von CA und ICV teil: Siegfried Gänßlen, ICV-Vorstandsvorsitzender (links), Dorothee Deyhle (nicht auf dem Bild) und Dr. Klaus Eiselmayer (2.v.l.), beide Vorstände der CA Akademie, Dr. Eiselmayer ist zudem ICV-Vorstandsmitglied. Mit Gyulnash Wild, Business and Academic Relationship Manager, IMA Europe, war eine weitere IMA-Repräsentantin zugegen (nicht auf dem Bild). Das Treffen fand am 14. September statt.
IMA-President und -CEO Jeff Thomson würdigte die Lebensleistung von Albrecht Deyhle und verlieh Deyhle die IMA-Ehrenmitgliedschaft.
Das Treffen nutzten die Spitzen von CA, ICV und IMA zum besseren gegenseitigen Kennenlernen. Sie sondierten Möglichkeiten der Zusammenarbeit und wollen ihre Gespräche fortsetzen. Kooperationen mit der IMA bestehen bereits; etwa seit der Aufnahme des CMA® certification program ins Portfolio der CA controller akademie sowie seit dem Beitritt der IMA zur International Group of Controlling (IGC) in diesem Jahr.