At the 46th Congress of Controllers (more: https://blog.icv-controlling.com/46-congress-der-controller-so-praesent-wie-schon-lange-nicht-mehr/) Prof. Dr. Ronald Gleich, Academic Director, Center for Performance Management & Controlling, Frankfurt School of Finance & Management and Head of the ICV Think Tank provided many practical examples and presented the five roles of the controller in the field of servitization – one of ICV topics of the year and a megatrend in today's world. His statements were completed by Edgar Lampater. The Senior Manager Controlling from Dürr, a company that is known for painting systems, first introduced the entire group and then focused on the topic of digital intelligence. The challenges for systems and machine builders in the field of servitization were also discussed.
But that's not all in the field of servitization!
The ICV Poland invites to a free ICV webinar hosted by the UNDER CONTROL by Małgorzata Podskarbi – Member of the Board of ICV GLOBAL and Dr. Tomasz M. Zieliński – Delegate of the ICV Poland. It takes part on May 24, between 2 p.m. and 4 p.m.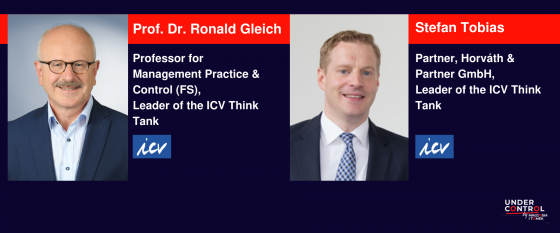 The special guests of the ICV webinar are:
Prof. Dr. Ronald Gleich – Professor for Management Practice & Control (FS), Leader of the ICV Think Tank
Ronald Gleich has been Professor for Management Practice and Control at the Frankfurt School of Finance and Management since August 2020. In December 2020 he founded the Center for Performance Management & Controlling, in cooperation with Professor Mahlendorf.
His research focuses on current and practically relevant issues of controlling, innovation management and performance measurement. He is the author of one of the leading controlling textbooks in the German-speaking world (Controlling, 14th edition, together with P. Horváth/M. Seiter at Vahlen-Verlag), co-editor of the Controlling-Berater (Haufe-Verlag) and co-director of the ICV-Think Tank of the international Association of Controllers. He also advises and controls leading German companies, especially in the manufacturing industry.
Gleich was also a partner in the management consultancy Horváth & Partners from 2001-2005 and managing partner and shareholder of the Horváth Academy from 2012-2018.
Stefan Tobias – Partner, Horváth & Partner GmbH, Leader of the ICV Think Tank
You can register here: https://www.icv-controlling.com/en/events.html?tx_gbevents_main%5Baction%5D=show&tx_gbevents_main%5Bcontroller%5D=Event&tx_gbevents_main%5Bevent%5D=1087&cHash=1cdb37dbb84b741f6c2cf681fb1e64c1