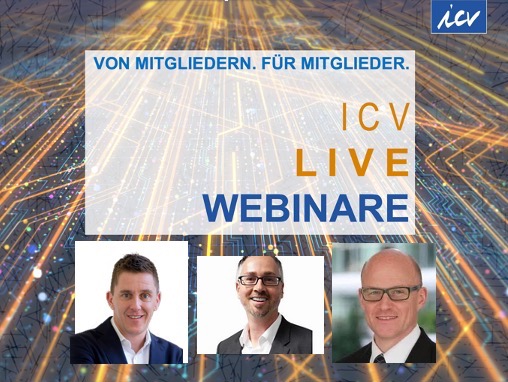 Im ICV Live Webinar am 9. Juni mit dem Titel "Wie gelingt die digitale Transformation im Controlling?" sprechen drei Experten über ihre Praxiserfahrungen. Alexander Hein und Christian Bramkamp, Leiter und stv. Leiter des ICV Fachkreises Digital Controlling Competence, sowie Pascal Speicher, bereits seit 20 Jahren Controller, decken im exklusiven Triple-Fachgespräch typische Fehler auf und geben konkrete Handlungsempfehlungen. Zum Beispiel berichten sie darüber, wie sich Unternehmens-, Arbeits- und Entscheidungsprozesse verändern oder was sich quantitativ und qualitativ durch die Digitalisierung im Controlling verbessern kann. Zudem gehen sie auf die Fähigkeiten ein, die ein Controller haben sollte oder sich eben aneignen muss. Auch erfahren die Teilnehmenden in dem kostenfreien Online-Event, welche Tools und Technologien empfehlenswert sind.
Das ICV Live Webinar richtet sich exklusiv an Expertinnen und Experten aus dem Finanzbereich sowie an Wissenschaftler. Jedoch können auch Nicht-Mitglieder des ICV teilnehmen.
Hier finden Sie weitere Details und den Link zur Anmeldung:
https://www.icv-controlling.com/de/events.html
In the ICV Live Webinar on June 9 entitled "How to succeed in digital transformation in controlling?" three experts talk about their practical experiences. Alexander Hein and Christian Bramkamp, Head and Deputy Head of the ICV Expert Work Group Digital Controlling Competence, as well as Pascal Speicher, who has been a controller for 20 years, uncover typical errors in the exclusive triple technical discussion and give recommendations for action. For example, they report on how corporate, work and decision-making processes are changing or what can be improved quantitatively and qualitatively through digitization in controlling. They also go into the skills that a controller should have or must acquire. The participants in the free online event will also learn which tools and technologies are recommended.
The ICV Live Webinar is aimed exclusively at experts from the financial sector and scientists. However, non-members of the ICV can also participate.
The ICV Live Webinar is in German.
More details and registration:
https://www.icv-controlling.com/en/events.html