Der Leiter des ICV-Arbeitskreises Moskau, Dr. Georg Schneider, hat einen Jahresrückblick 2018 verfasst. Diesen geben wir hier mit einem herzlichen Dankeschön und den besten Wünschen für das neue Jahr wider:
Als eine Gemeinschaftsinitiative der Deutsch-Russischen AHK und des Internationalen Controller Vereins (ICV) wurde die Arbeitsgruppe Controlling Anfang 2017 offiziell ins Leben gerufen. Sie hat nun bereits das zweite Lebensjahr erleben können; angefüllt mit interessanten Berichten und Vorträgen sowie Praxiselementen durch Werkbesuche im Raum Moskau sowie St. Petersburg. Insgesamt haben seit Gründung der AG mehr als 150 cverschiedene Personen von rund 90 unterschiedlichen Firmen an den diversen Veranstaltungen teilgenommen. Damit konnte ein wesentliches Ziel der Arbeitsgruppe, nämlich die Steigerung des Bekanntheitsgrades von Controlling in der russischen Wirtschaft, umgesetzt werden.
Auch ein weiteres Ziel lässt sich Schritt für Schritt erreichen: Den Mitarbeitern aus Controlling und Rechnungswesen der russischen Mitgliedsunternehmen von AHK und ICV eine Plattform für Knowhow-Transfer und aktives Networking im persönlichen Erfahrungsaustausch zu bieten. Indem aktuelle und zukünftige Anforderungen an das moderne Controlling diskutiert werden können, ergibt sich – und das spiegeln die positiven Rückmeldungen der Teilnehmern wider – ein konkreter Beitrag zur nachhaltigen Verbesserung von internen Prozessen und damit zur Effizienzsteigerung in den beteiligten Unternehmen.
Im Jahr 2018 fanden insgesamt 7 Veranstaltungen der AG statt: 4 "interne" Sitzungen in den Räumlichkeiten der AHK und zwei "externe".
Bei den "internen" Veranstaltungen präsentierten i.d.R. zwei Unternehmensvertreter vor ca. 15 – 25 Personen ihre Themen. Als Vortragende konnten in 2018 Vertreter von Bosch Siemens Haushaltsgeräte, Schattdecor, Hansgrohe, Claas Vostok, Daimler Kamaz, Nissan, Zentis, WiseAdvice, Deloitte sowie Everest Consulting gewonnen werden. Diese sprachen über Themen wie:
Steuerung der Umsatzrentabilität
Aufbau einer Finanzstellenstruktur
Umsetzung der SAP-Einführung
Re-Budgetierungsprozess im Konzern
Umstellen der Geschäftsprozesse im Unternehmen nach der Einführung des elektronischen Dokumentenverkehrs durch Geschäftspartner
Management von Wechselkursrisiken ohne Einsatz von Finanzinstrumenten
Docflow Systeme
Robotergestützte Automatisierung der Prozesse
Methoden der Bewertung von Vermögen für unterschiedliche Entscheidungszwecke
Zusätzliche Höhepunkte der AG waren die beiden Werksbesuche: zum einen bei Wilo in Noginsk, zum anderen bei BigFilter in St. Petersburg.
Vom Leiter der AG Controlling wurden darüber hinaus bei den beiden CFO-Tagungen in Moskau und St. Petersburg die wichtigsten Erkenntnisse des Controller Congresses 2018 in München vorgestellt.
Bei den "internen" Sitzungen in den Räumen der AHK konnten Teilnehmer nach Anmeldung grundsätzlich auch per Fernzugriff die Vorträge mitverfolgen. Für dieses Medium würden wir uns noch eine intensivere Nutzung wünschen.
Auf Basis der nun zweijährigen Erfahrungen plant die AG Controlling auch in 2019 wieder im zweimonatigen Rhythmus ihre Veranstaltungen; zum wesentlichen Teil in den dann neuen Räumen der AHK Moskau; gleichwohl sind auch wieder Firmenbesuche vorgesehen. Den Start der Veranstaltungen bildet am 28.01.2019 aber eine Sitzung in St. Petersburg bei einer Mitgliedsfirma des ICV in enger Kooperation und dankenswerter Unterstützung der AHK St. Petersburg.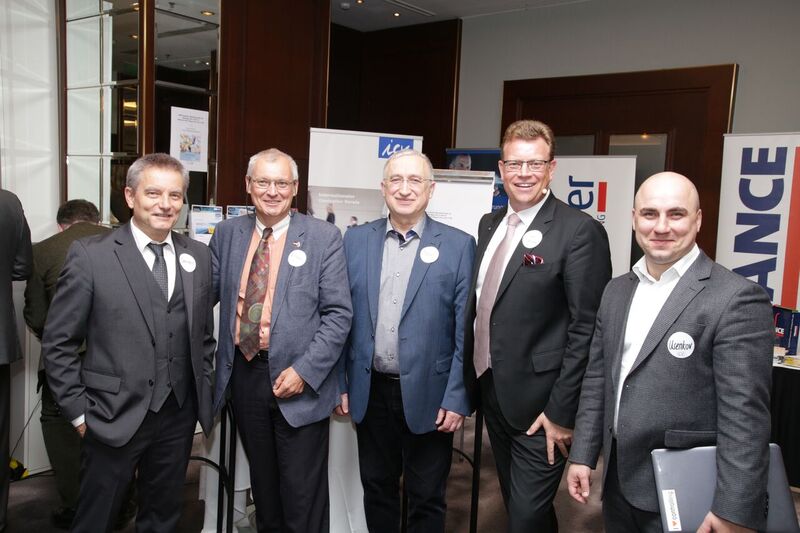 Dr. Georg Schneider (2.v.l.) auf dem 43. Congress der Controller 2018 in München. Rechts neben ihm der Vorsitzende der Russischen Controllervereinigung, Prof. Dr. Sergey Falko, Matthias von Daacke, stv. ICV-Vorsitzender, und Valentin Usenkov, Leiter des ICV-Arbeitskreises Kaliningrad. Auf dem Bild auch Hans-Peter Sander (links), Leiter ICV-Kommunikationsteam, der die russischen Arbeitskreise unterstützt.
The head of the ICV work group Moscow, Dr. Georg Schneider, wrote a review of the year 2018. We publish it with a big thank you and the best wishes for the new year:
As a joint initiative of the German-Russian Chamber for Foreign Trade and the International Association of Controllers (ICV), a working group Controlling was officially launched in early 2017. It has already been able to experience the second year of its life; filled with interesting reports and lectures as well as practical elements through factory visits in the Moscow as well as St. Petersburg area. In total, more than 150 people from around 90 different companies have participated in the various events since the founding of the group. Thus, a key objective of the working group, namely to increase the awareness of controlling in the Russian economy, has been implemented.
Another goal can be achieved step by step: To offer the employees from the controlling and accounting departments of the Russian member companies of the Chamber and the ICV a platform for know-how transfer and active networking in the personal exchange of experience. By discussing current and future requirements for modern controlling, the positive feedback from the participants is a concrete contribution to the sustainable improvement of internal processes and thus to an increase in efficiency in the companies involved.
In 2018, a total of 7 events of the working group took place: 4 "internal" meetings in the Chamber premises and two "external" ones.
At the "internal" events usually two company representatives present their topics in front of about 15 – 25 people. In 2018, representatives of Bosch Siemens Haushaltsgeräte, Schattdecor, Hansgrohe, Claas Vostok, Daimler Kamaz, Nissan, Zentis, WiseAdvice, Deloitte and Everest Consulting were speakers. They talked about topics like:
Return on sales management
Structure of a funds centers
SAP implementation
Re-budgeting process within the group
Change business processes in the enterprise after the introduction of electronic document traffic by business partners
Management of foreign exchange risks without the use of financial instruments
Docflow systems
Robotic automation of processes
Methods of valuing assets for different decision purposes
Additional highlights of the working group were two factory visits: on the one hand at Wilo in Noginsk, on the other hand at BigFilter in St. Petersburg.
In addition, the head of working group Controlling presented the most important findings of the 2018 Congress of Controllers in Munich at the two CFO conferences in Moscow and St. Petersburg.
At the "internal" meetings in the rooms of the Chamber, participants were also able to follow the speeches by remote access. We would like to use this medium more often.
On the basis of its two years of experience, working group Controlling is again planning its events every two months in 2019; mainly in the new rooms of the Chamber Moscow. Nevertheless, company visits are planned again. The events start on 28.01.2019 with a meeting in St. Petersburg with a ICV member company in a close cooperation and thankworthy support of the Chamber St. Petersburg.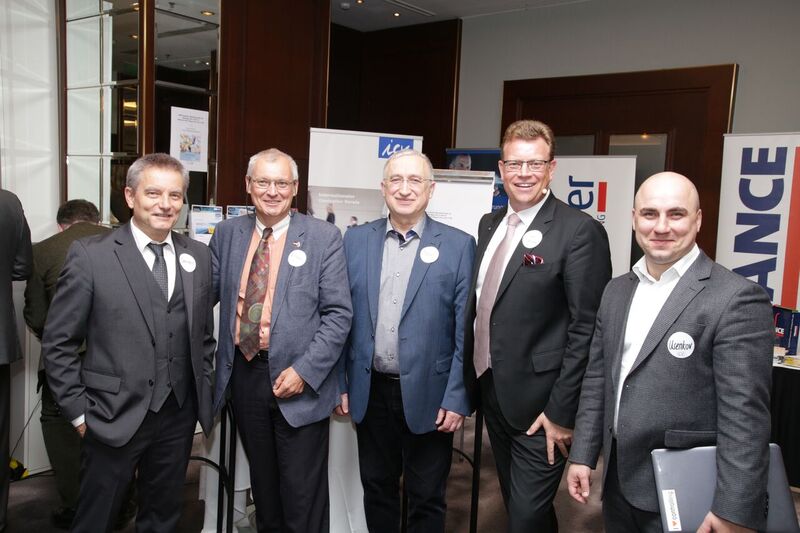 Dr. Georg Schneider (2. from the left) at the 43rd Congress of Controllers 2018 in Munich. Right next to him, the Chairman of the Russian Controller Association, Prof. Dr. Sergey Falko, Matthias von Daacke, Vice ICV Chairman, and Valentin Usenkov, Head of the ICV work group Kaliningrad. Pictured also Hans-Peter Sander (left), head of the ICV Communications team, who supports the Russian work groups.