Weite Teile unserer Welt ächzen unter der großen Hitze. Dürre und verheerende Brände bestimmen dieser Tage die Nachrichten. Diskussionen um den "hausgemachten" Klimawandel flammen unüberhörbar wieder auf. Welche Lösungen sind möglich, was kann getan werden und wie?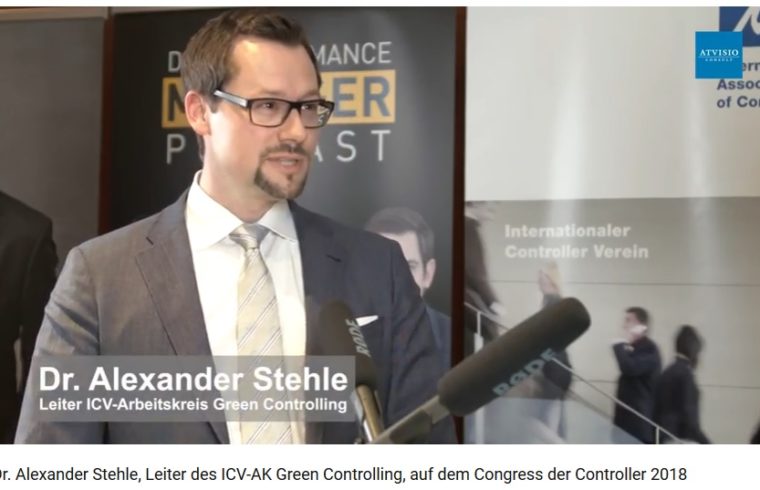 Über die Rolle des Nachhaltigkeitsmanagements, des Green-Controlling, in Unternehmen, informiert ein hervorragender Video-Podcast. Am Rande des diesjährigen Controller Congresses stand der Leiter des ICV-Fachkreises "Green Controlling for Responsible Business", Dr. Alexander Stehle, dem Performance Manager Podcast Rede und Antwort. Er erläuterte, womit sich der ICV-Fachkreis befasst, wie es gelingt, neben ökonomischen auch ökologische und soziale Ziele in der Unternehmenssteuerung abzubilden, Nachhaltigkeit "messbar" und damit "steuerbar" zu machen. Dr. Stehle skizziert in diesem Zusammenhang "neue Währungen" – neben dem EUR.
Auf die Frage, in welchem Verhältnis die ökonomische, die ökologische und soziale Dimension denn in der Wirklichkeit der Unternehmen stehen, erklärt er: In einer Kurzfristperspektive sind zwar durchaus Zielkonflikte möglich. Aber langfristig mache es gar keinen Sinn, gegen die sozialen und ökologischen Themen zu arbeiten, weil man sich ja sonst die Grundlage für den eigenen wirtschaftlichen Erfolg, für die eigene Existenz selbst zerstört.
Mit Blick in das aktuelle Weltgeschehen ist dem nichts hinzuzufügen. Ein hochaktuelles Video, das Sie sich nicht entgehen lassen sollten.
Large parts of our world groan under the great heat. Drought and devastating fires determine the news these days. Discussions about the "home-made" climate change flare up unmistakably again. What solutions are possible, what can be done and how?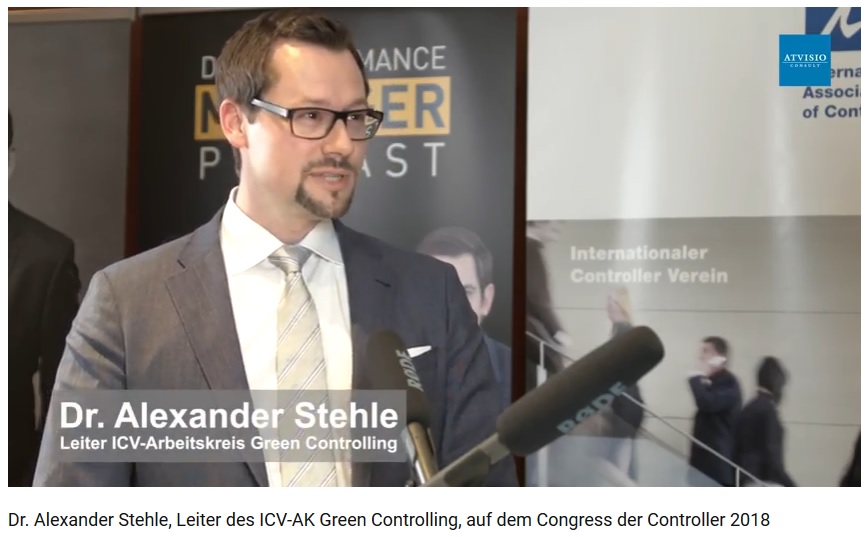 An excellent video podcast informs about the role of sustainable management in companies, the green controlling. On the sidelines of this year's Controller Congress the head of the ICV expert work group "Green Controlling for Responsible Business" Dr. Alexander Stehle gave an interview for Performance Manager Podcast. He explained what the ICV expert work group deals with, how it succeeds in depicting economic as well as ecological and social goals in corporate management, making sustainability "measurable" and thus "controllable". Dr. Stehle outlines in this context "new currencies" – next to the EURO.
While asked about the relationship between the economic, the ecological and the social dimension in the reality of the company, he explains that, in a short-term perspective, conflicts of interest are indeed possible. But in the long term, there is no point in working against the social and ecological issues, because you can destroy the basis for your own economic success, for your own existence.
There is nothing to add to this with regard to current world events. A cutting-edge video that you can't miss!