Gutleb-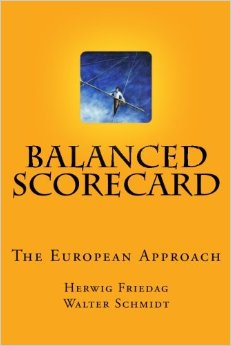 Associaion from Karlsruhe, Germany – a charitable organization with 1,200 registered members promoting free social welfare and running nursery schools, day care centers and houses for elderly people…
And Brigitte Heumann – its Managing Director who leads us through the process of building a strategy of the organization and introducing it using Balanced Scorecard…
They are heroes of the newest book by Herwig R. Friedag and Walter Schmidt – Balanced Scorecard experts from Germany, now available IN ENGLISH. Together with consultants the employees of the organization discuss how their future will look like. What can they change and do better? How can an individual person contribute to achieving common goals of the organization? The advises from the book are meant not only to big organizations, but also for smaller companies who want to compete better on he market.
The American management-tool of implementing strategy – Balanced Scorecard – is used all over the world. It usually focuses primarily on financial success, while the European approach of Balanced Scorecard developed by the authors of the book, concentrates on the people with their objectives and potentials. On strategical workshops managers and key employees of the organization work together on defining vision, mission and strategy. Then they can focus on implementation of the strategy and hence to the actual "Balanced Scorecard".
If you want to understand what a Balanced Scorecard is and what are its advantages and get to know step by step the way to achieve a common and sustainable future, pocket guide "Balanced Scorecard. The European Approach" is definitely for you.
The book IN ENGLISH is available on amazon.com: https://www.amazon.com/Balanced-Scorecard-Assistance-succesful-implementation/dp/1530427606?ie=UTF8&*Version*=1&*entries*=0
Herwig R. Friedag and Walter Schmidt have been engaged in the ICV activities for more than 20 years.