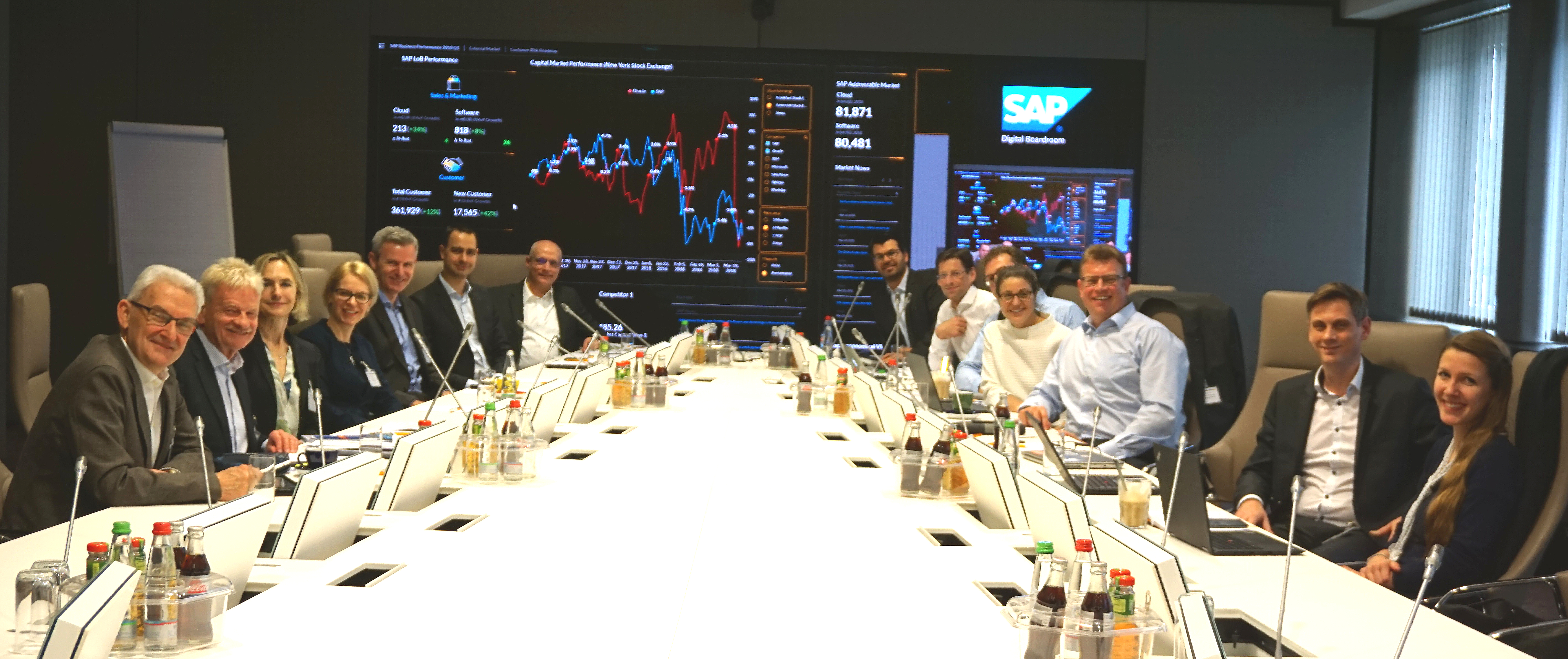 The ICV Board meeting on March 28 had a special venue with the SAP headquarters in Walldorf.
In the morning, Rouven Morato, Head of Enterprise Analytics, SVP and member of the SAP Senior Leadership Team, and Christian Cramer, Head of Corporate Controlling, VP, SAP, presented the topic "Digital Boardroom and Digital Enterprise Management at SAP". As Rouven Morato explained, the SAP Digital Boardroom allows SAP decision-making bodies, such as the Executive Board and the Supervisory Board, to clearly present facts, analyze them comprehensively, and initiate actions with the obtained results. Technologically, the decision-maker cockpit is based on the SAP Cloud Platform and SAP Analytics Cloud and, as a hub, accesses business area data from SAP S/4HANA® and other applications. Impressive discussions and demonstrations were followed by lively discussions in the Digital Boardroom, including: on the future of corporate governance and the role or best forecasting methods.
The status and possible next steps at the ICV on the topic "Future of the work in controlling" were also discussed in depth. Jürgen Daum, Chief Solution Architect / Value Engineer for Finance, SAP; and Dr. Rüdiger Eichin, Future of Work Director, SAP Innovation Center Network, moderated the constructive exchange of ideas.
After lunch, the ICV Board members Siegfried Gänßlen (Chairman), Prof. Dr. Heimo Losbichler (Deputy Chairman), Carmen Zillmer (Managing Director), Malgorzata Podskarbi, Matthias von Daacke, Klaus Eiselmayer and Karl-Heinz Steinke (guest: Hans-Peter Sander, Head of Team PR / New Media) spoke. The deliberations focused on the preparations for the General Meeting on April 22 and the 43rd Controller Congress (April 23-24 in Munich). Among other things, further steps of the ICV Digitalization Offensive, internationalization and the communication of the Association were discussed.
(Picture, from the left: Karl-Heinz Steinke; Siegfried Gänßlen; Carmen Zillmer; Malgorzata Podskarbi; Dr. Klaus Eiselmayer; Christian Cramer; Jürgen Daum; Rouven Morato; Prof. Dr. Heimo Losbichler; Dr. Rüdiger Eichin; Charlotte-Katharina Lekkas, PhD student, SAP St. Gallen; Matthias von Daacke, Reinhard Taucher, Business Development Finance, Center of Expertise Middle & Eastern Europe).