Prall gefüllt mit interessanten Einblicken, neuen Erkenntnissen und guten Ideen: das war die ICV Management Conference am letzten Septembersamstag in Wien. Der Tag mit offiziellem Programm bis hinein in den späten Abend verging wie im Flug. Gemeinsames Feiern nach dem Arbeitspensum des Tages war ausdrücklich erwünscht: "Wir wollen uns heute mit einem besonderen Abendprogramm für eure Unterstützung im ICV bedanken", betonte ICV Vorstandsvorsitzender Heimo Losbichler vor der ausgiebigen Stadtführung mit Abschluss in einem Heurigen-Lokal.
Der Tag, der vom stellvertretenden Vorsitzenden Matthias von Daacke geleitet und moderiert wurde, begann mit Informationen aus dem Vorstand. Heimo Losbichler gab ein Update zur ICV Strategie sowie einen operativen Überblick, etwa über neue Fachkreise und Jahresziele. Klaus Eiselmayer und Claudia Maron zeigten den Status der Arbeitskreis-Reportings und riefen die Arbeits-, Fach- und Branchenarbeitskreisleiter auf, diesen aktuell zu halten, um möglichen ICV Kooperationspartnern die tatsächlichen Aktivitäten in den essenziellen Basisbereichen im ICV realitätsnah präsentieren zu können. Die neuen Möglichkeiten im ICV Mentoring-Programm stellte Markus Steiner vor: Mentoren und Mentees können nun online selbst das für sie passende "Match" suchen.
Das Fokusthema ICV Imagefilm unter dem Lead von Claudia Maron und Malgorzata Podskarbi schloss den Vormittag ab. Nach einer Einführung waren die ICV Funktionäre vor Ort gefragt. Im Workshop trugen sie mit ihrem Input zu weiteren Inspirationen bei. "Ich bin wirklich beeindruckt von den tollen Ergebnissen", bedankte sich Claudia Maron, sichtlich erfreut angesichts der kreativen Beiträge zu den Themenbereichen Emotionen, Influencermarketing, Filmideen sowie Statements und Stories.
Nach der Mittagspause stellten Carmen Zillmer, Vorstandsmitglied und Geschäftsführerin, und Online Marketing Managerin Brigitte Dienstl-Arnegger Status Quo und Planungen rund um die ICV Website vor. Auch hier war die aktive Beteiligung der Anwesenden gefragt: Ihre Meinungen, Wünsche und Erfahrungen zur Website wurden über Online-Befragungen ermittelt und werden bei der anstehenden Überarbeitung der Website mit einfließen.
Google Business Profile und LinkedIn haben sich Vorstandsmitglied Matthias von Daacke und Online Marketing Specialist Tobias Neukötter vorgenommen. Letzterer erläuterte Status Quo, Vorgehen und Ziele für die beiden Bereiche. Er beantwortete zahlreiche Fragen, insbesondere zu den Zusammenhängen zwischen persönlichen Seiten und ICV Unternehmensseite auf LinkedIn und zeigte den Teilnehmenden, wie sie selbst dazu beitragen können, über diesen Kanal Aufmerksamkeit und Reichweite für den ICV zu generieren.
Für ihre jahrelange aktive Unterstützung im ICV haben sich Matthias von Daacke und Heimo Losbichler abschließend bei scheidenden Funktionären bedankt:
Dr. Uwe Seidel (21 Jahre Arbeitskreisleiter Süd I)
Bärbel Kuhn (18 Jahre Arbeitskreisleiterin Berlin-Brandenburg)
Günther Pichler (16 Jahre Arbeitskreisleiter Wien-West)
Udo Kraus (15 Jahre Arbeitskreisleiter Stuttgart)
Stephan Jockel (15 Jahre Arbeitskreisleiter Nord II)
René Heule (11 Jahre Branchenarbeitskreisleiter Gesundheitswesen Schweiz)
Frank Ahlrichs (9 Jahre Fachkreisleiter Controlling und Qualität)
Olaf Leistert (7 Jahre Arbeitskreisleiter Stuttgart, zusammen mit Dr. Andreas Aschenbrücker)
Dr. Veselin Perovic (4 Jahre Arbeitskreisleiter Serbien)
Markus Lüscher (3 Jahre Arbeitskreisleiter und 3 Jahre Delegierter Schweiz)
Dr. Ulrich Egle (3 Jahre Fachkreisleiter Agiles Controlling)
Nicolas Hess (Fachkreisleiter RPA Robotic Process Automation)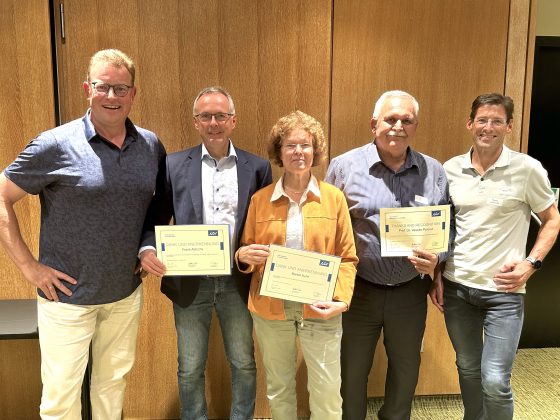 Matthias von Daacke und Heimo Losbichler (links und rechts) haben sich im Rahmen der Management Conference in Wien auch bei scheidenden Funktionären bedankt, im Bild: Frank Ahlrichs, Bärbel Kuhn und Prof. Dr. Veselin Perovic (von links). 
Full of interesting insights, new findings and good ideas: that was the ICV Management Conference on the last Saturday in September in Vienna. The day, with the official program until late in the evening, flew by. Celebrating together after the day's work was expressly desired: "Today we want to thank you for your support in the ICV with a special evening program," emphasized ICV Chairman of the Board Heimo Losbichler before the extensive city tour, which ended in a Heurigen restaurant.
The day, which was led and moderated by Vice-Chairman Matthias von Daacke, began with information from the Board. Heimo Losbichler gave an update on the ICV strategy as well as an operational overview, such as new Expert Work Groups and annual goals. Klaus Eiselmayer and Claudia Maron showed the Work Group reporting status and called on the Heads of the Regional, Expert and Sector Work Groups to keep it up to date in order to be able to realistically present the actual activities in the essential basic areas in the ICV to possible ICV cooperation partners. Markus Steiner presented the new options in the ICV mentoring program: Mentors and mentees can now search for the right "match" for them online.
The focus topic ICV image film led by Claudia Maron and Malgorzata Podskarbi concluded the morning. The ICV officials on site were asked for an introduction. In the workshop, they contributed further inspiration with their input. "I am really impressed by the great results," said Claudia Maron, visibly pleased with the creative contributions on the topics of emotions, influencer marketing, film ideas as well as statements and stories.
After the lunch break, Carmen Zillmer, Board Member and Managing Director, and Online Marketing Manager Brigitte Dienstl-Arnegger presented the status quo and plans for the ICV website. Here, too, the active participation of the participants was required: their opinions, wishes and experiences about the website were determined via online surveys and will be taken into account in the upcoming revision of the website.
Google Business Profile and LinkedIn were taken by the Board Member Matthias von Daacke and Online Marketing Specialist Tobias Neukötter. The latter explained the status quo, approach and goals for the two areas. He answered numerous questions, especially about the connections between personal prfiles and the ICV company page on LinkedIn, and showed the participants how they themselves can help generate attention and reach for the ICV via this channel.
Matthias von Daacke and Heimo Losbichler finally thanked outgoing officials for their years of active support in the ICV:
Dr. Uwe Seidel (Head of the Work Group South I for 21 years)
Bärbel Kuhn (Head of the Work Group Berlin-Brandenburg for 18 years)
Günther Pichler (Head of the Work Group Vienna-West for 16 years)
Udo Kraus (Head of the Work Group Stuttgart for 15 years)
Stephan Jockel (Head of the Work Group North II for 15 years)
René Heule (Head of the Sector Work Group Health Care Switzerland for 11 years)
Frank Ahlrichs (Head of the Expert Work Group Controlling and Quality for 9 years)
Olaf Leistert (Head of the Work Group Stuttgart for 7 years, together with Dr. Andreas Aschenbrücker)
Dr. Veselin Perovic (Head of the Work Group Serbia for 4 years)
Markus Lüscher (Head of the Work Group for 3 years and Delegate for Switzerland for 3 years)
Dr. Ulrich Egle (Head of the Expert Work Group Agile Controlling for 3 years)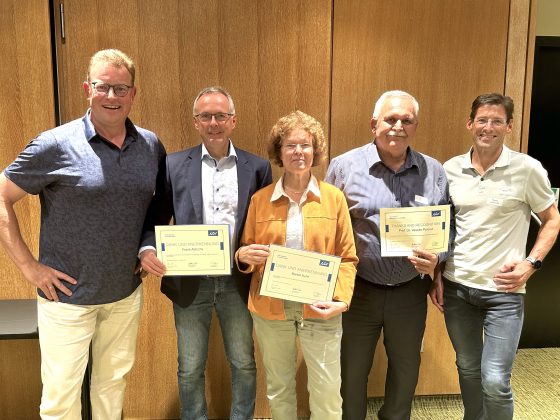 Matthias von Daacke and Heimo Losbichler (left and right) also thanked outgoing officials at the Management Conference in Vienna, in the picture: Frank Ahlrichs, Bärbel Kuhn and Prof. Dr. Veselin Perovic (from left).