After a networking coffee break Grażyna Knap, Head of Controlling, Górnośląskie Przedsiębiorstwo Wodociągów, started her speech. In a very detailed way she showed the Resource and Process Consumption Accounting on the example of her company, the biggest producer of drinking water in Poland (the company supplies in water ca. 10% of the Polish people). In such a big organization it's really important to follow costs. That's why Resource and Process Consumption Accounting was implemented (cost of production, water distribution, cost of readiness and unused capacity, cost and profitability of particular customers). Specific processes and specific resources were named. A structure of costing system was built: 2.500 resource cost centers, 300 activities, 11 finals cost objects and 13 additional cost objects and finally 54 cost facilities. The speaker of the Congress presented what data and information the system is able to produce. Then she took over to the digitalization in the company. The complexity in business operations is reflected in details: specialized controlling systems, strong integration with the financial system and the human factor: idea, data collection,  analysis and interpretation.
The next speaker was Marek Pluta, Deputy Head of the Planning and Analyses Department, Bank Polskiej Spółdzielczości S.A. who focused on the topic: "Digitalization of Controlling Processes at Bank BPS – How to Effectively Implement a Budget and Reporting System on Your Own Merits".
The highlights of his presentation were:
The role of controllers in digitalization of the Bank's basic processes
How to effectively implement a budget system
The features of an efficient controlling team
How to deal with big amounts of data in practice
The main part of the speech was looking for and implementing a new budget system. System challenges were: change of approach to planning models, designing more detailed models with lower time consumption for the planner, granularity diversification of the planning and reporting areas, and organization challenges was convincing planner and report users for a new tool. The effect of the implementation is building a new system with understandable reports with data most needed in the company. What's the key to success in budget system implementation?
The vision of the final solution
Choosing a tool that meets your expectations
Experienced team
Booking the time necessary for implementation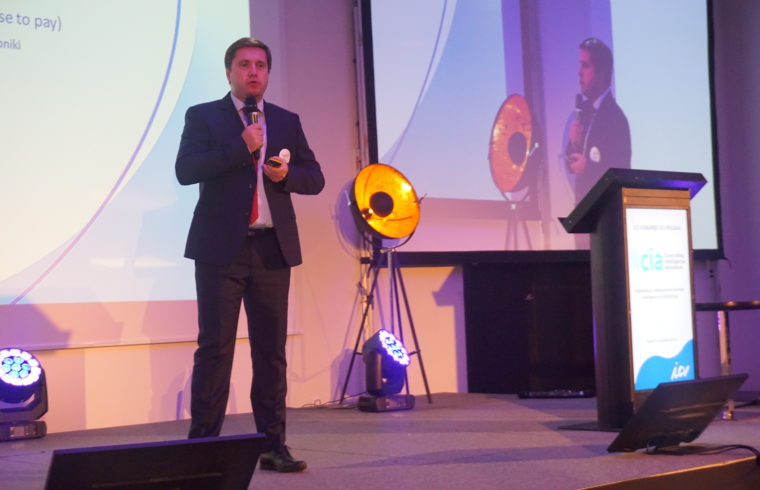 Wojciech Rosa (picture), Financial Director of Consolidation & Reporting at Polpharma Group, closed the second session, just before lunch. His topic was "Digitalization and automation of financial processes at Polpharma Group Shared Services Center". He talked about his experience as a controller at Polpharma: a new manager brought a new structure, a new organizational system. In this new structure Wojciech Rosa became responsible for technical finance two years ago: a lot changed: more collecting data, less time for analyzing it, controller as a business partner who can really discuss with the manager.
Wojciech Rosa focused on 4 areas of his controlling work at Polpharma:
How IT systems can contribute to improving the timeliness and quality of the financial reporting process.
The use of SelfBi solutions in monitoring accounting processes and implementation of internal controls.
When can we successfully apply the robotic process automation class tools in accounting and controlling?
Is there room for Machine Learning solutions in internal control and financial reporting processes.