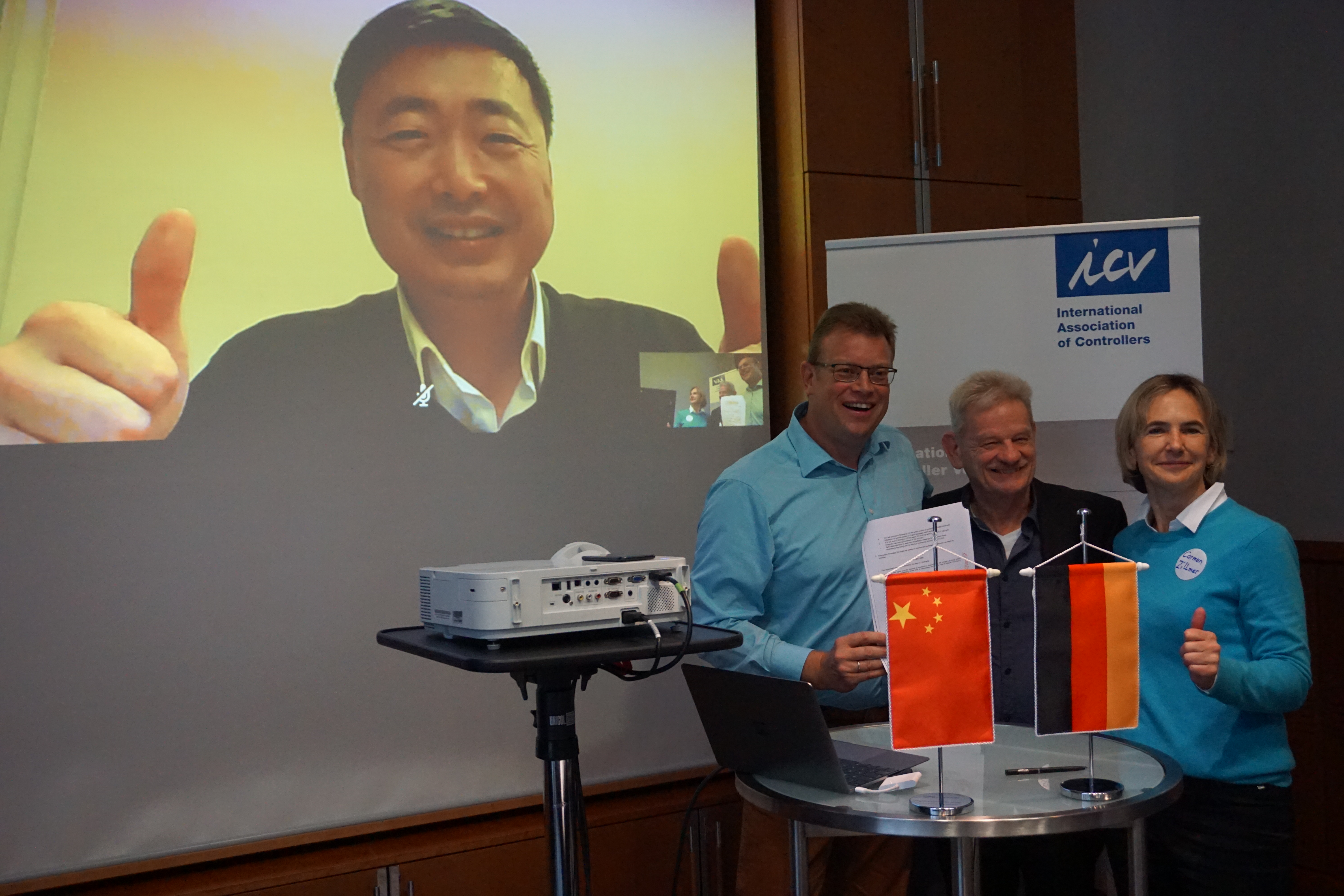 During the Management Conference of the International Association of Controllers (ICV) in Munich on November 25, the ICV Managing Director Carmen Zillmer, the ICV Chairman Siegfried Gänßlen and ICV Board Member Matthias von Daacke signed a cooperation agreement between the ICV and Shanghai De Chen Enterrprise Management Consulting Co. Ltd. (Shanghai DC Consulting). It took place in the skype presence of the Chinese partner, Dr. Zhen Huang, Managing Partner of Shanghai DC Consulting.
The contract regulates the cooperation between both sides. This includes i.a. conducting controlling events in China such as work group meetings and conferences under the flag of the International Association of Controllers (ICV). Dr. Huang has been a business partner of the CA controller akademie (CA) for several years and has already organized several joint controlling-related congresses and forums in collaboration with the CA, the ICV, Chamber for Foreign Trade Shanghai and other local partners in China.
"Signing the contract is an important step in the further internationalization of the ICV. We have the foundation stone, e.g. for our first regional work group in China, WG Shanghai. In doing so, we continue implementing our internationalization strategy under the motto 'Follow your customer!'. It means developing new ICV networks primarily in the countries where there are branches or representations of companies from the DACH region," said ICV Board Member Matthias von Daacke.
Dr. Huang said, "The strategic alliance with the ICV strengthens our activities to form a local community for controllers and non-controllers in China, who are interested in the controlling concept from German-speaking countries. Both German companies in China and local Chinese companies can now benefit from our online and offline platforms for sharing experiences, which we will continue to develop into a close cooperation.