Guest contribution by: Hans-Nicolai Hars, Senior Director for Procurement DACH at The Hackett Group (ICV corporate member) on the important role of controlling in procurement digitization
A typical procurement organization can save up to 24 percent of process costs if it uses modern digital technologies correctly. The consistent introduction of these technologies raises the performance of a peer group company to today's world class level. World class companies are in the top quartile of all comparable companies in terms of efficiency and performance (output, performance, etc.).
Further findings of our current World Class Survey: Procurement departments at world class level require 22 percent less money for labor costs, employ 29 percent less permanent staff, but are far more effective and powerful than companies in the average peer group. All in all, world class companies with a turnover of about ten billion dollars save up to six million dollars annually in the area of functional costs of procurement, a tenfold return-on-investment of the purchase function costs.
The additional potential for cost savings through digitization in procurement is dramatic: peer group companies can reduce up to 24 percent of their process costs through the use of robotic process automation, advanced analytical methods, cloud technology and other digital transformations; world class companies can save up to 35 percent through the consistent use of digital technologies.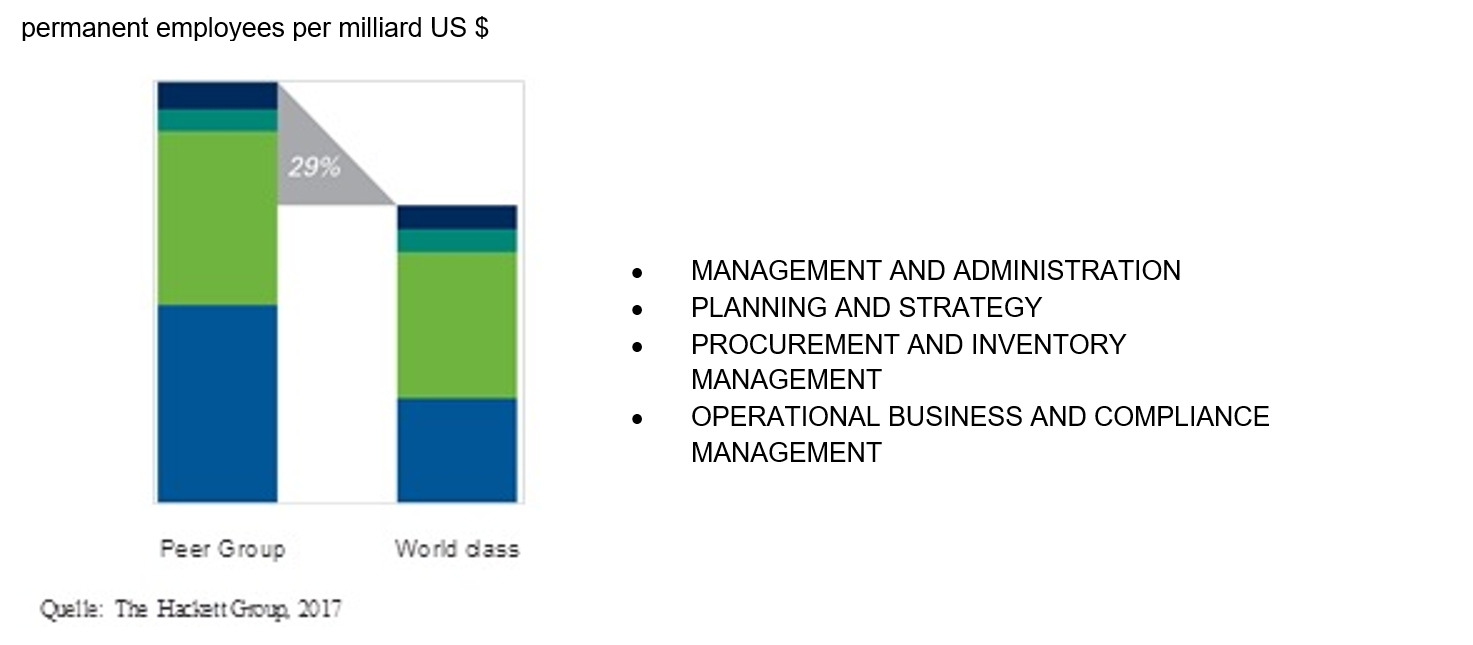 These enormous changes in purchasing have also a direct impact on the financial sector, for which our studies predict even greater changes due to digitization than in procurement – close coordination between procurement / purchasing and controlling becomes indispensable. This is because the joint Procure-to-Pay (P2P) process from order to payment will be automated by digitization at least 80 percent, both on the purchasing and the financial side. The differentiated use of cloud-based end-to-end systems and bots for control and data entry, even across system gaps, will make this high level of automation possible – because these programs do repetitive work without any human interaction.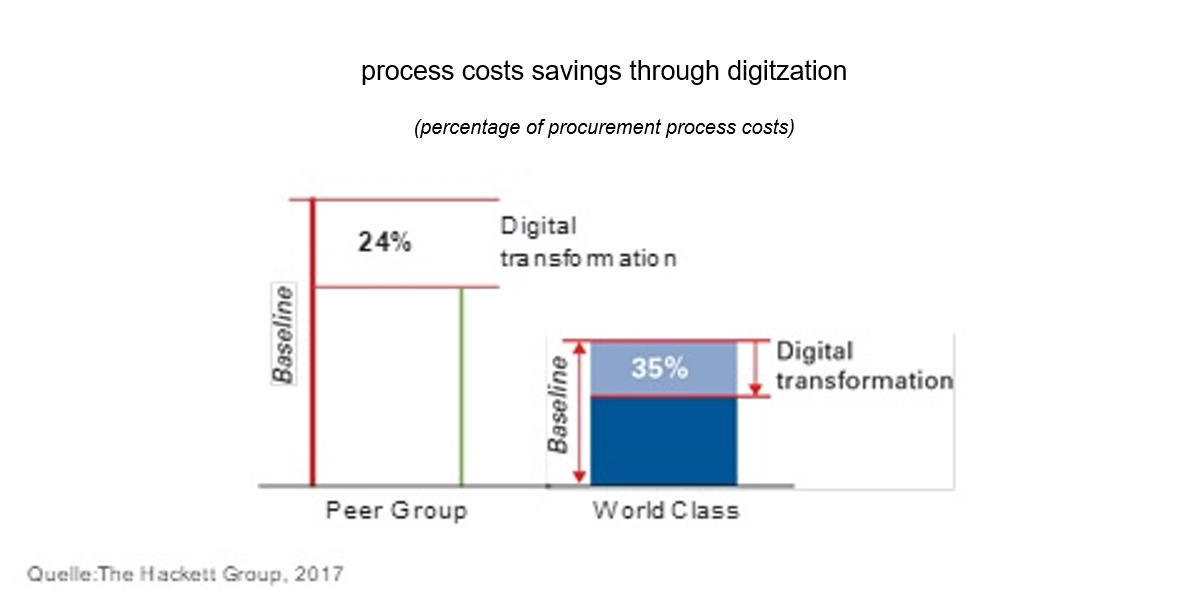 Also as far as effectiveness is concerned, world class companies with consistent digitization of procurement are well ahead: sources of error are minimized by a factor of 2 to 3 and fluctuation in procurement is reduced by up to 45 percent.
The Hackett Group's study identifies digital drivers for increasing sustainable procurement performance, including digital processes to improve customer satisfaction, robotic process automation of rule-based activities, cloud-based applications, targeted use of big data, predictive analysis technology and artificial intelligence for improved forecasting and optimized decision-making processes.
Controlling can and should make a decisive contribution to the design and implementation of these processes, including the definition of permissible risks and corresponding control mechanisms in the P2P process: For example, where a conventional 3-way-match is required, where a conventional 3-way-match is required to check whether the quantities and values of the purchase order are identical to those of the delivery and invoice, where an assumed receipt (payment based on purchase order and invoice without goods receipt control) or an ERS (Evaluated Receipts Settlement, the automatic payment after order and goods receipt without invoice) is possible.
Our study sees procurement as an important turning point: digitization significantly minimizes costs, both for typical companies and for the world class leaders. It also creates an increase in purchasing performance, reduces errors, enables foresighted insights and decisions and can generate completely new services. Digital transformation enables personalized service delivery that is tailored to customer needs and supported by digital technologies. It means moving away from the "one fits all" approach of standardization. Digital transformation is therefore much more than just the digitization of existing business processes.
Controlling can and should play also an important supporting role in the introduction of digitization – regardless of the company's area of operation: by means of agile management and implementation with a focus on small, fast steps, which together lead to great success.