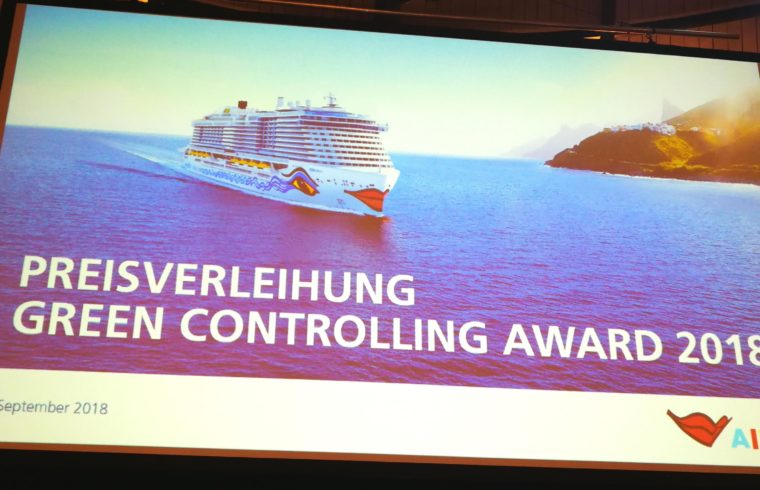 Am 19. September ist in Stuttgart der Green-Controlling-Preis 2018 an Aida Cruises verliehen worden. Seit 2011 zeichnet die Péter-Horváth-Stiftung alljährlich in Kooperation mit dem Internationalen Controller Verein (ICV) die innovativste und effektivste "grüne" Controllinglösung zur Gestaltung und Steuerung von ökologischen Strategien, Programmen, Projekten und Maßnahmen in Unternehmen und öffentlichen Einrichtungen aus. Der mit 10.000 EUR dotierte Green-Controlling-Preis fördert die Auseinandersetzung des Controllings mit der "grünen Herausforderung".
Den Award 2018 nahm auf dem 32. Stuttgarter Controlling- und Management-Forum Dr. Ali Arnaout, CFO und Senior Vice President Business Development von Aida Cruises, aus den Händen von Prof. Dr. Dr. h.c. mult. Péter Horváth, stv. Aufsichtsratsvorsitzender Horváth AG, und Siegfried Gänßlen, ICV-Vorstandsmitglied, entgegen.
Bei Aida Cruises ist "Green Controlling" zu einem integralen Bestandteil der Unternehmensplanung und -steuerung geworden. Das Kreuzfahrtunternehmen handhabt im Rahmen des Green-Controlling seine "Green-Cruising"-Ziele und -Maßnahmen gleichgewichtig. Technische Innovationen werden mit ökonomischen Innovationen zur betriebswirtschaftlichen Steuerung und Planung von ökologischen Strategien verbunden. (Details zur Sieger-Lösung 2018 folgen hier in kürze.)
On September 19 in Stuttgart, the Green Controlling Award 2018 was awarded to Aida Cruises. Every year since 2011, the Péter Horváth Foundation, in cooperation with the International Association of Controllers (ICV), awards the most innovative and effective "green" controlling solution for the design and management of ecological strategies, programs, projects and measures in companies and public institutions. The EUR 10,000 Green Controlling Award promotes the confrontation of controlling with the "green challenge".
The 2018 Award was presented at the 32nd Stuttgart Controlling and Management Forum. Dr. Ali Arnaout, CFO and Senior Vice President Business Development of Aida Cruises received the Award from the hands of Prof. Dr. Dr. h.c. mult. Péter Horváth, Deputy Chairman of the Supervisory Board Horváth AG, and Siegfried Gänßlen, Member of the ICV Board.
At Aida Cruises, "green controlling" has become an integral part of corporate planning and management. The cruise operator has adopted its green cruising goals and measures equally. Technical innovations are linked to the economic innovations for corporate management and planning of ecological strategies. (Details on the winner's solution 2018 will follow shortly.)