Das ICV-Forum Gesundheitswesen Österreich 2018 war am 20. September in Wien erfolgreich. ICV-Tagungsleiter DDr. Dietmar Ranftler (Leiter des ICV-Branchenarbeitskreises Gesundheitswesen Österreich) hat uns dazu folgenden Bericht gesendet, für den wir uns herzlich bedanken: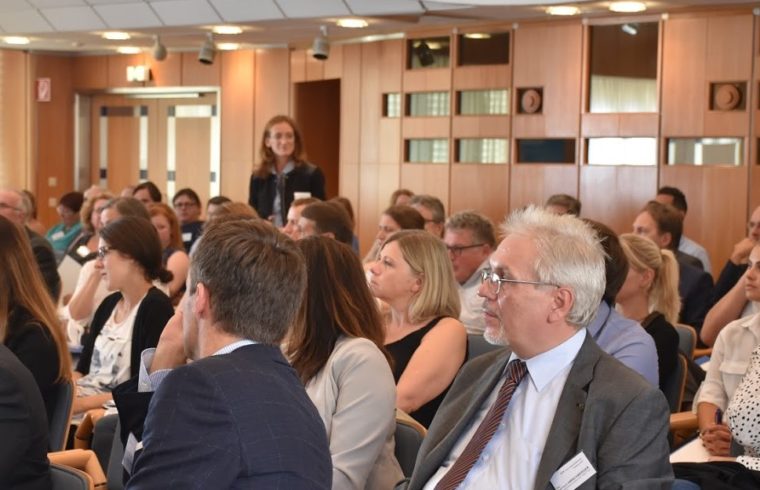 Die schon traditionelle Veranstaltung startete wie jedes Jahr am Vorabend durch ein informelles Warm-up, bei dem man sich in kleiner Runde rege austauschen konnte.
Die am 20. September 2018 vom Arbeitskreis Gesundheitswesen Österreich des Internationalen Controller Vereins (ICV) durchgeführte Tagung fand nun bereits zum dritten Mal im Festsaal des Wiener Donauspitals (SMZ-Ost) in sehr angenehmer Atmosphäre statt. Mit Grußworten des ICV- Repräsentanten Prof. Dr. Albert Mayer und der Pflegedirektorin Josefa Satz als Hausherrin startete die Konferenz, moderiert in schon gewohnter Weise vom Arbeitskreisleiter DDr. Dietmar Ranftler vom Kabeg-Management, unterstützt von Erika Ortlieb, MBA aus dem BKH Kufstein, und Mag. Michael Schwob, SMZ-Ost.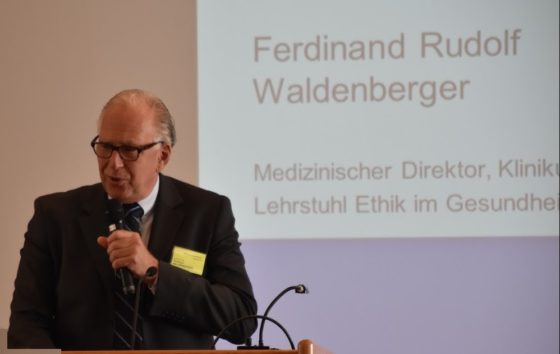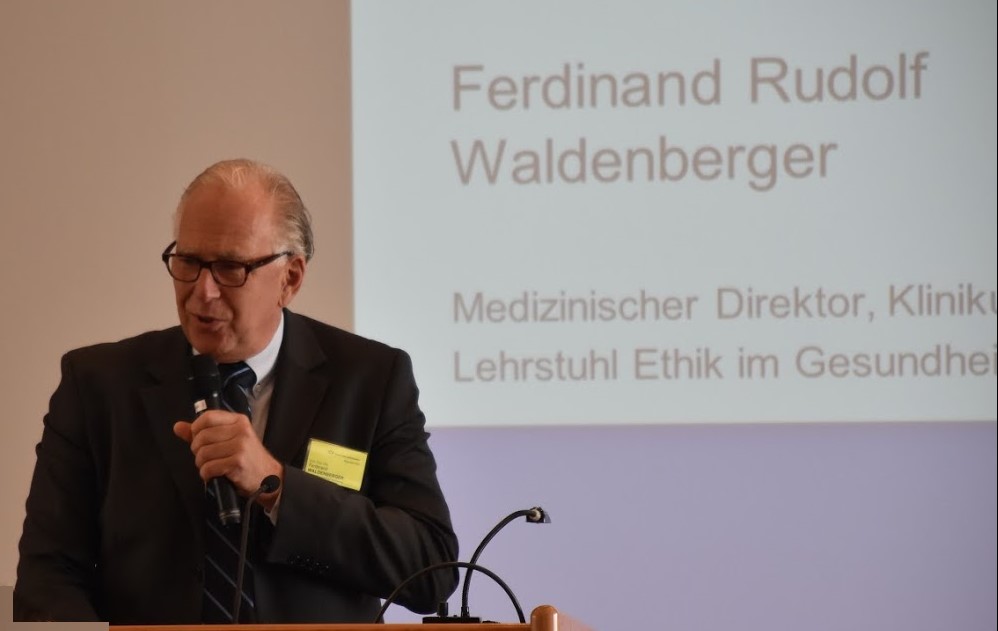 Bereits der erste Vortragende Univ. Prof. DDr. Ferdinand Waldenberger (Bild), Medizinischer Direktor des Klinikum Klagenfurt, konnte die Zuhörerschaft durch einen hochinteressanten und nachdenklichen Vortrag fesseln, in dem er über ethische, moralische und gesundheitsökonomische Zugänge zur innovativen, aber auch kostenintensiven Medizin referierte und mitunter die Diskrepanz zwischen Rationalisierung und Rationierung aufzeigte. 
Der Vortrag von Priv. Doz. Dr. Claudia Wild, Leiterin des LBI-HTA, konnte dann diese Ausführungen ergänzen, teilweise auch korrigieren und führte das Auditorium in die Arbeitswelt von Health Technology Assessment ein, mit welchem vor allem Nutzenbewertungen medizinischer Verfahren angestellt werden und bei deren praktischer Anwendung im Krankenhausmanagement auch Kostenvorteile erzielt werden können.
Nach einer lebhaften Kaffeepause referierte Herbert Atzlinger, MBA MAS von der SANTESIS Gebäudemanagement GmbH, über Legal Compliance. Viele gesetzliche Richtlinien üben heute Einfluss auf das Facility Management von Krankenanstalten. Ein gutes Risikomanagement hilft dabei, im Sinne des Pareto-Prinzips den Fokus auf das Wesentliche zu richten, Risiken zu minimieren und dabei unnötige Kosten zu vermeiden.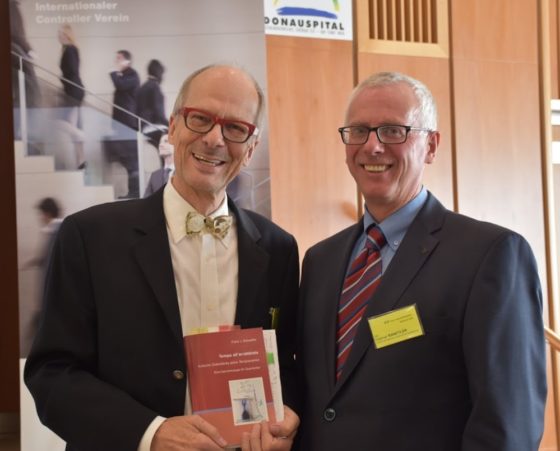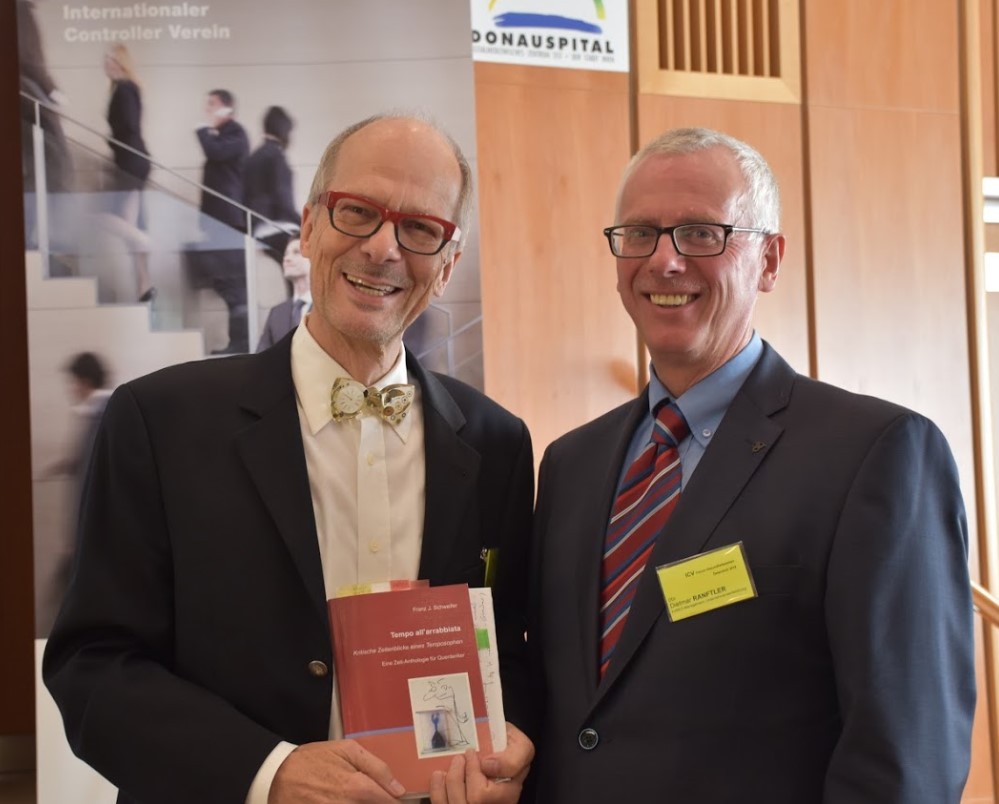 Ähnlich wie in den letzten Jahren sollte der Vortrag vor dem Mittagessen im Zeichen des Besonderen stehen. So konnten wir den 'Temposophen' Mag. Dr. Franz J. Schweifer (links im Bild mit Dr. Ranftler), Geschäftsführer der 'Management OASE' begrüßen, der viel Nachdenkliches und auch Humorvolles zum Thema Zeit brachte und mitunter aus seinem Buch Tempo all' arrabbiata zitierte.
Nach der Mittagspause mit einem guten Buffet und ausgiebigem Networking startete der Nachmittag mit zwei Simultanveranstaltungen. Im Plenarsaal wurde der Themenbereich des Medizincontrolling in der Praxis ausgiebig thematisiert und einer deutsch-österreichischen Konfrontation unterzogen. So berichtete vorerst Herr Mag. Christian Riemer von seinen Aktivitäten bei der Premiqamed und stellte Kennzahlen und Möglichkeiten zur Verbesserung medizinischer Dokumentation wie auch von Behandlungsabläufen dar.
In der Folge referierte die promovierte Juristin Dr. Erika Raab, MBA vom Klinikum Darmstadt und als stv. Vorsitzende der Deutschen Gesellschaft für Medizincontrolling auf sehr humorvolle Weise über die Situation der DRG-basierten Leistungsverrechnung in Deutschland, welche teils wirkliche Stilblüten treibt und trotz aller Professionalität wahrscheinlich nicht immer nachahmenswert ist.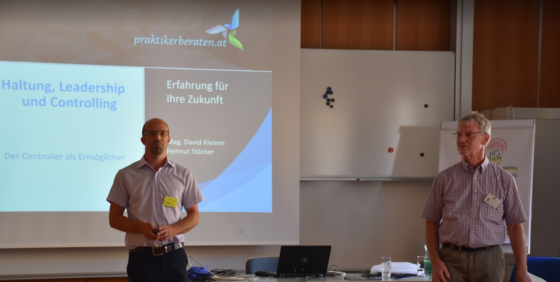 Im Seminarraum überzeugten Mag. rer. nat. David Kleiner, Arbeitspsychologe, systemischer Coach und ehemals Geschäftsführer der Privatklinik Graz-St. Leonhard, mit seinem Co-Referenten, Helmut Stäcker die Zuhörerschaft mit einem äußerst interessanten und tiefgehenden und durch praktische Beispiele angereicherten Vortrag zu Haltung, Leadership und Controlling.  
Danach referierte Prim. Dr. Stefan Schauß, Leiter der Rehabilitationsklinik Bad Hofgastein, über Controlling und Management in den eigenen Einrichtungen der PVA. Da die meisten Zuhörer doch aus Akutkrankenanstalten stammen, waren die Einblicke in diese andere Form der Gesundheitsversorgung sehr erhellend.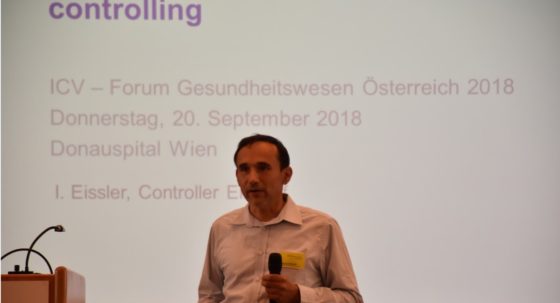 Die Nachmittags-Kaffeepause wurde wiederum intensiv zum Networking genutzt, danach führte uns der Unternehmensberater und Interimsmanager Immanuel Eissler (Bild), gleichzeitig stv. AK-Leiter des ICV-Arbeitskreises Gesundheitswesen Schweiz, vor allem am Beispiel der Universitätsklinik Zürich in die Welt des Einkaufscontrollings. In der Diskussion zeigte sich, dass dieses Thema in Österreich noch wenig Beachtung findet und somit ausbaubar wäre.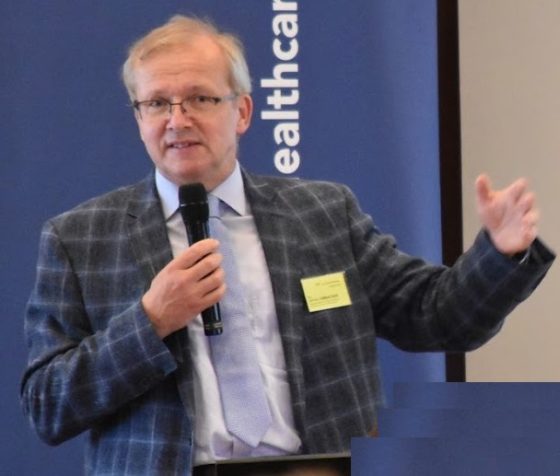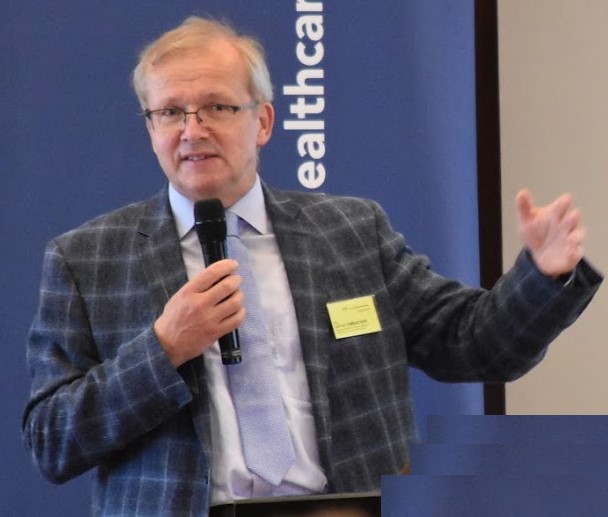 Den Abschluss der Tagung bildete der hochinteressante Vortrag von Mag. Gerhard Embacher (Bild), langjährige Führungskraft im nunmehrigen Bundesministerium für Arbeit, Soziales, Gesundheit und Konsumentenschutz (BMASGK) und 'Urvater' des LKF, über die aktuellen Entwicklungen des Österreichischen Strukturplanes Gesundheit (ÖSG), der Gesundheitsreform mit der Zielsteuerung und abschließend über die Ausrollung des ambulanten LKF-Modells.
Insgesamt kann die Veranstaltung dank des breiten Programmes, der ausgezeichneten Referenten und Vorträge sowie der aktiven Beteiligung der etwa 150 Teilnehmer als äußerst gelungen bezeichnet werden. Schon jetzt freuen wir uns auf das nächstjährige Controlling-Gesundheitsforum, welches mit Donnerstag, den 26. September 2019, datiert wurde.
© Text: DDr. Dietmar Ranftler (ICV)   Fotos: Daniela Ranftler
The ICV Health Care Forum Austria 2018 took place successfully in Vienna on September 20. The ICV Conference Director DDr. Dietmar Ranftler (Head of the ICV Sector Work Group Health Care Austria) sent us the following report, for which we would like to thank: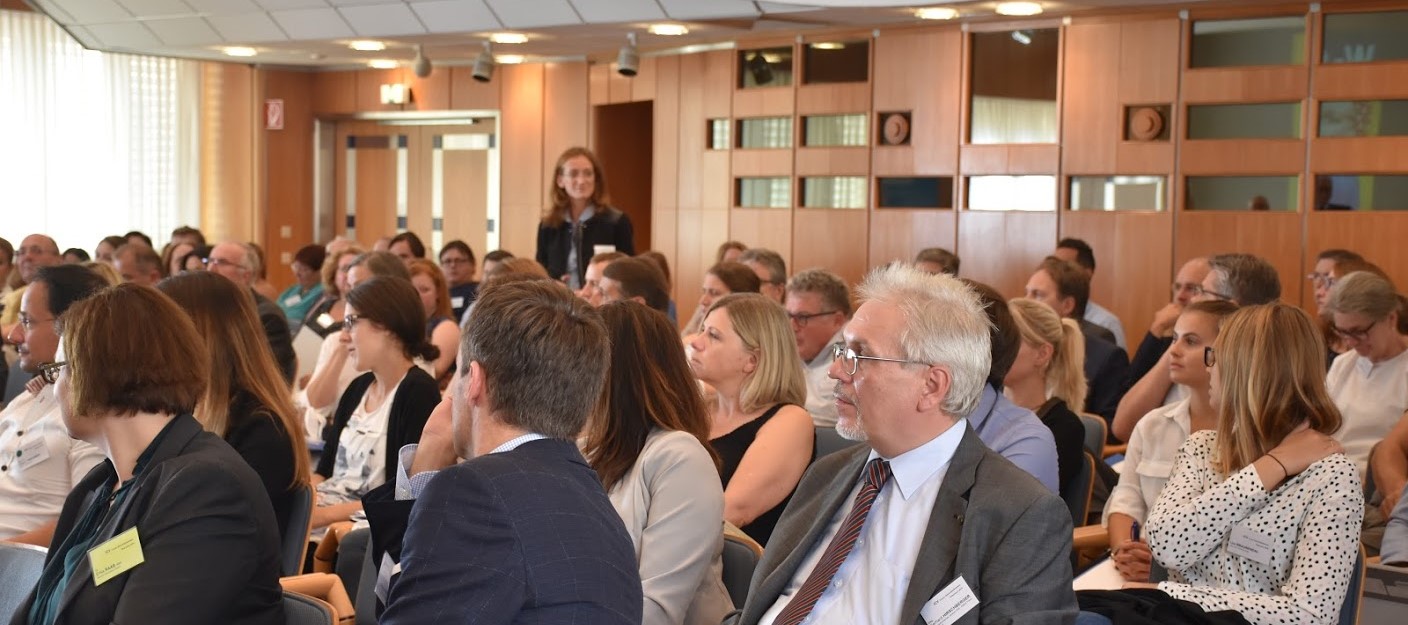 The traditional event started like every year the evening before with an informal warm-up, when we could exchange experiences lively in small round.
The meeting, held on September 20, 2018 by the Sector Work Group Health Care Austria of the International Association of Controllers (ICV), was organized for the third time in the banqueting hall of the Vienna Danube Hospital (SMZ-Ost) in a very pleasant atmosphere. With the welcome speech from the ICV representative Prof. Dr. Albert Mayer and the nursing director Josefa Satz as host, the conference started, moderated in the usual way by the head of the work group DDr. Dietmar Ranftler from the Kabeg Management, supported by Erika Ortlieb, MBA from the BKH Kufstein, and Mag. Michael Schwob, SMZ-Ost.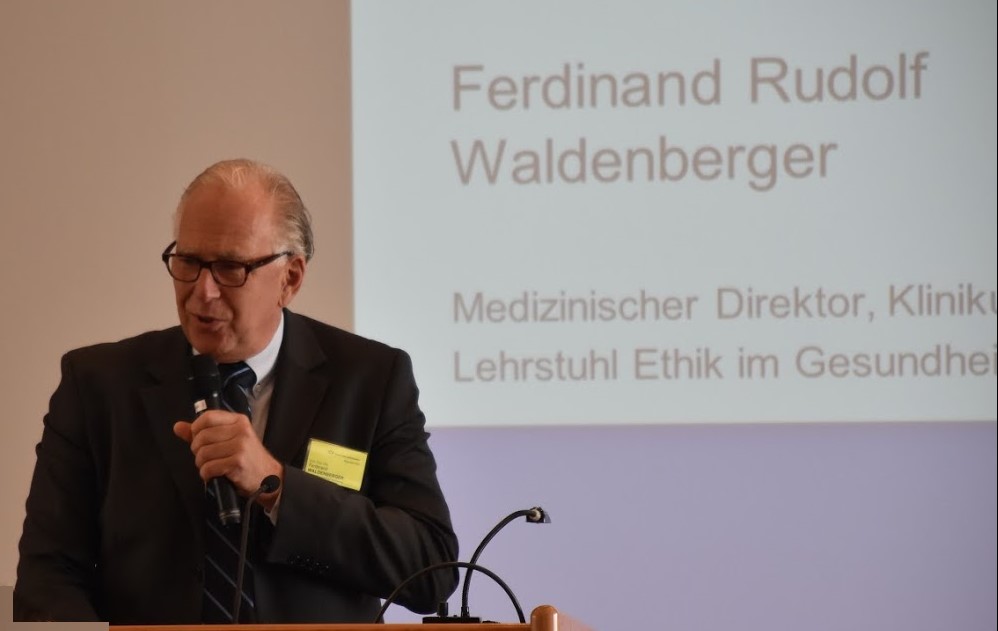 Already the first speaker Univ. Prof. DDr. Ferdinand Waldenberger (picture), medical director of Klinikum Klagenfurt, captivated the audience with a highly interesting and thought-provoking speech in which he spoke about ethical, moral and health economic approaches to innovative but also cost-intensive medicine and also pointed out the discrepancy between rationalization and rationing.
The speech by Priv. Doz. Dr. Claudia Wild, Head of the LBI-HTA, was able to supplement and partly correct these explanations and introduced the auditorium to the Health Technology Assessment working environment, which primarily assesses the benefits of medical procedures and which practical application in hospital management brings also cost advantages.
After a lively coffee break, Herbert Atzlinger, MBA MAS from SANTESIS Gebäudemanagement GmbH, spoke about legal compliance. Many legal guidelines influence today the facility management of hospitals. Good risk management helps to focus on the essentials in the sense of the Pareto principle, to minimize risks and avoid unnecessary costs.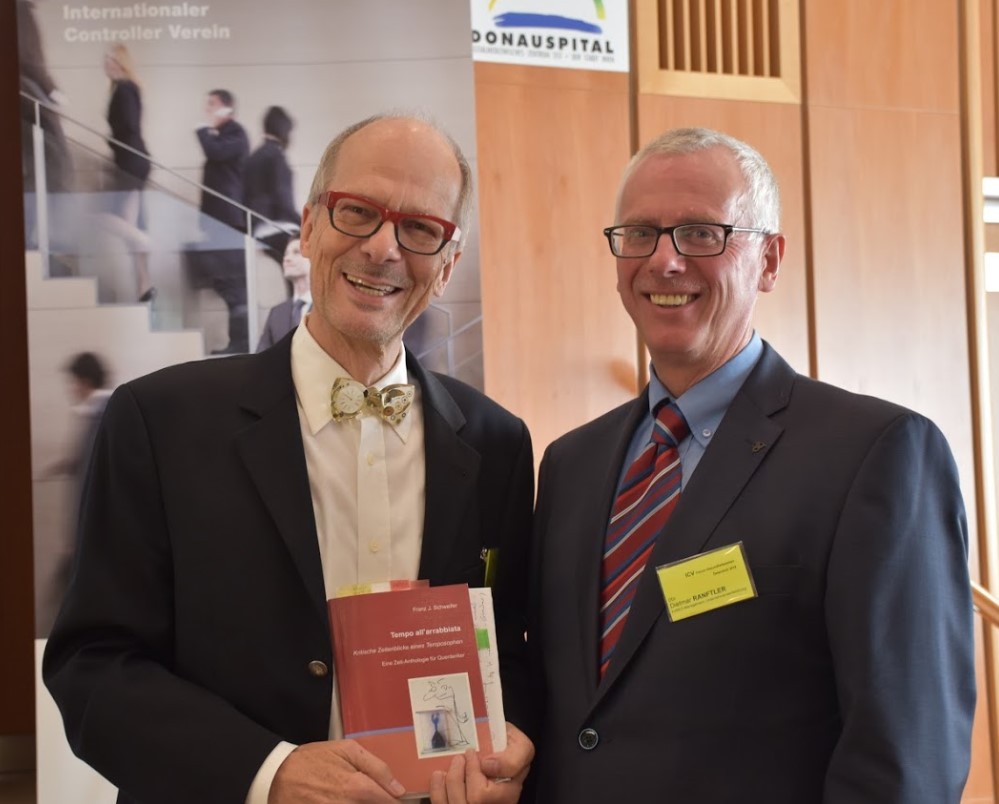 As in recent years, the lecture before lunch was dedicated to something special. So we could welcome the 'temposoph' Mag. Dr. Franz J. Schweifer (left, in the picture with Dr. Ranftler), managing director of the "Management OASE", who brought a lot of thoughtful and also humorous thoughts on the subject of time and sometimes quoted from his book Tempo all 'arrabbiata.
After the lunch break with a good buffet and extensive networking, the afternoon started with two simultaneous events. In the plenary hall, the topic of medical controlling was extensively discussed in practice, it was a German-Austrian confrontation. First, Mag. Christian Riemer reported on his activities at Premiqamed and presented key figures and possibilities for improving medical documentation as well as treatment procedures.
Then the doctor of law Dr. Erika Raab, MBA from Klinikum Darmstadt and Deputy Chair of the German Society for Medical Controlling spoke in a very humorous way about the situation of the DRG-based service allocation in Germany, which sometimes drives real style blossoms and, despite all professionalism, is probably not always worth imitation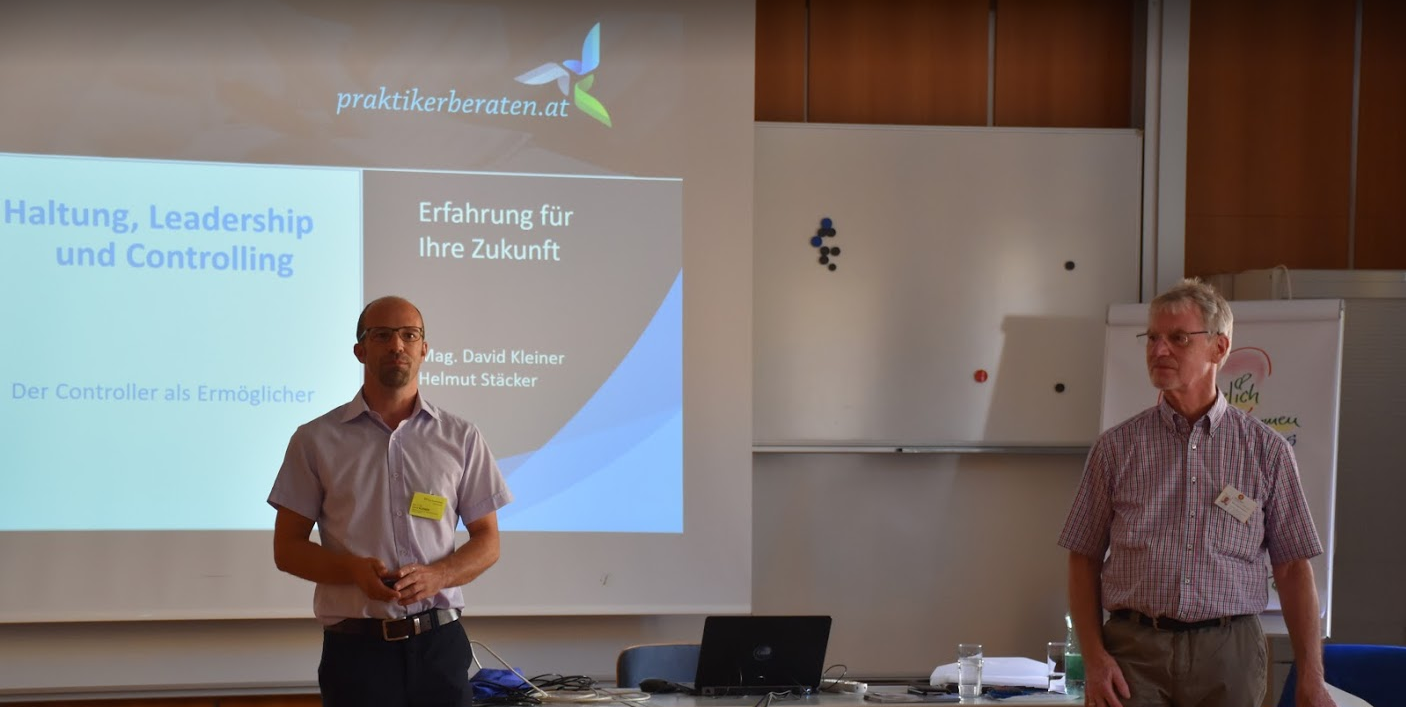 .
In the seminar room Mag. Rer. Nat. David Kleiner, occupational psychologist, systemic coach and former managing director of the Privatklinik Graz-St. Leonhard, and his co-speaker, Helmut Stäcker convinced the audience with a very interesting, deep, rich and practical speech to attitude, leadership and controlling.
Afterwards Prim. Dr. Stefan Schauß, Head of Rehabilitation Clinic Bad Hofgastein, talked on controlling and management in the facilities of the PVA. Since most of the listeners come from acute care hospitals, the insights into this other form of health care were very enlightening.
The afternoon coffee break was once again intensively used for networking, after which the management consultant and interim manager Immanuel Eissler (picture) and Deputy Head of the ICV Health Care Switzerland work group, showed the participants the world of purchasing controlling especially using the example of the University Hospital Zurich. The discussion showed that this topic still receives little attention in Austria and could therefore be expanded.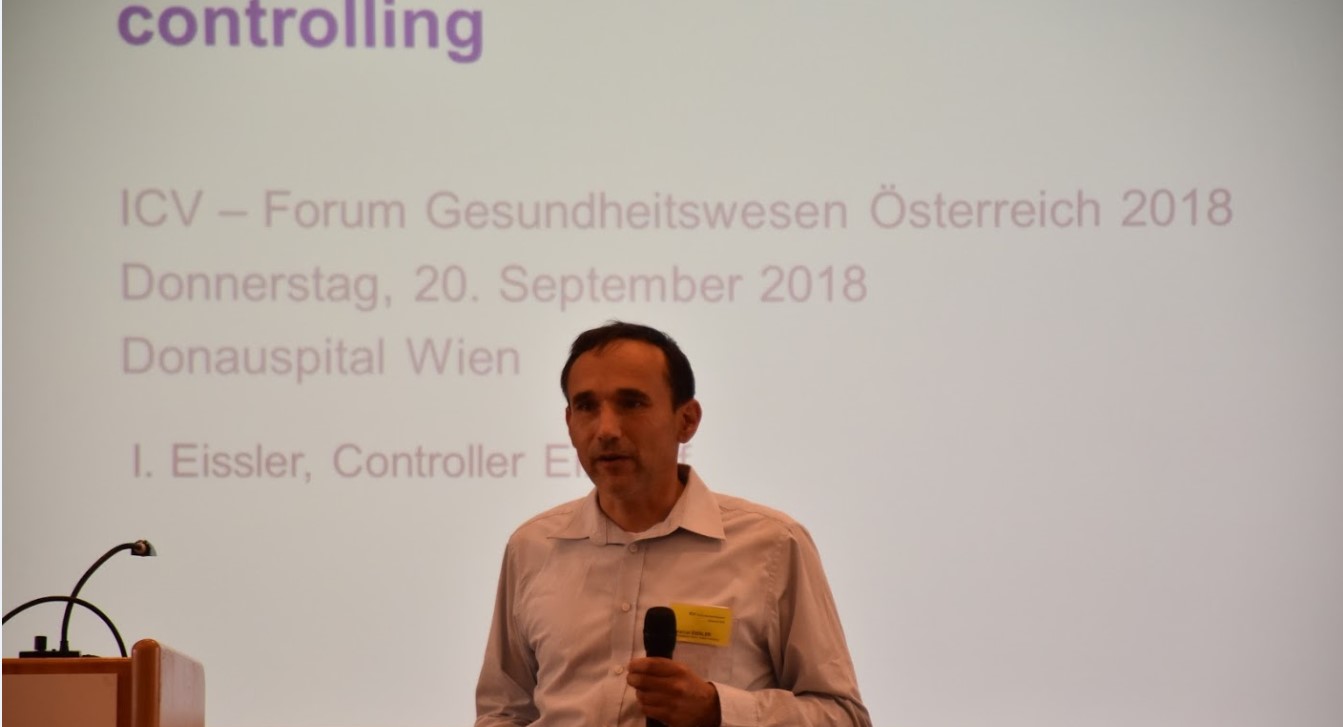 The conclusion of the conference was the highly interesting lecture of Mag. Gerhard Embacher (picture), longtime executive in the now Federal Ministry of Labor, Social Affairs, Health and Consumer Protection (BMASGK) and "grandfather" of the LKF, on the current developments of the Austrian Structure Plan Health (ÖSG), the health reform with the target management and finally on the rollout of the outpatient LKF model.
All in all,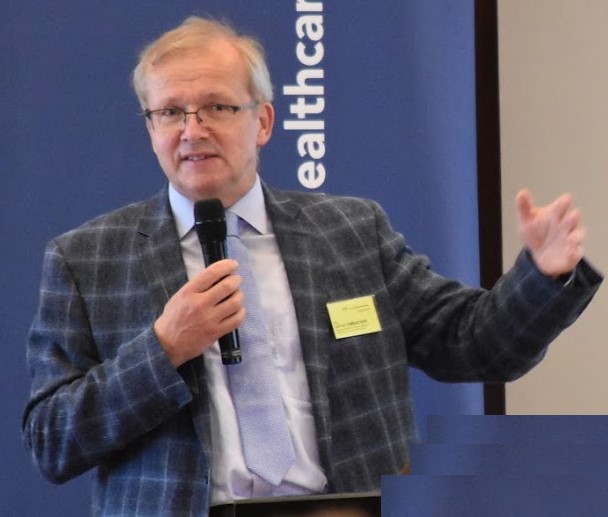 thanks to the broad program, excellent speakers and lectures and the active participation of the approximately 150 participants, the event can be described as extremely successful. We are already looking forward to the next year's Controlling Health Care Forum, which takes place on Thursday, September 26, 2019.
© Text: DDr. Dietmar Ranftler (ICV)   Pictures: Daniela Ranftler