Die Gesundheitstagung Schweiz – GTS 2019 am 28. März in Zürich war ein sehr gelungener Neustart dieser Veranstaltung nach mehrjähriger Unterbrechung. Gemeinsam von der Hochschule für Wirtschaft in Zürich (HWZ) und dem ICV organisiert, erlebten mehr als 70 Gäste eine professionelle Tagung mit erstklassigen Referenten.
Durch die Tagung führten gemeinsam Prof. Dr. Thomas Rautenstrauch, seit 2009 Leiter des Center for Accounting & Controlling, seit Januar 2019 Leiter des Departements Business Analytics & Technology sowie Mitglied der Schulleitung der HWZ, und René Heule, Leiter ICV Branchenarbeitskreises Gesundheitswesen Schweiz, Leiter Finanzen und Controlling / Mitglied der Geschäftsleitung, GaleniCare Management AG.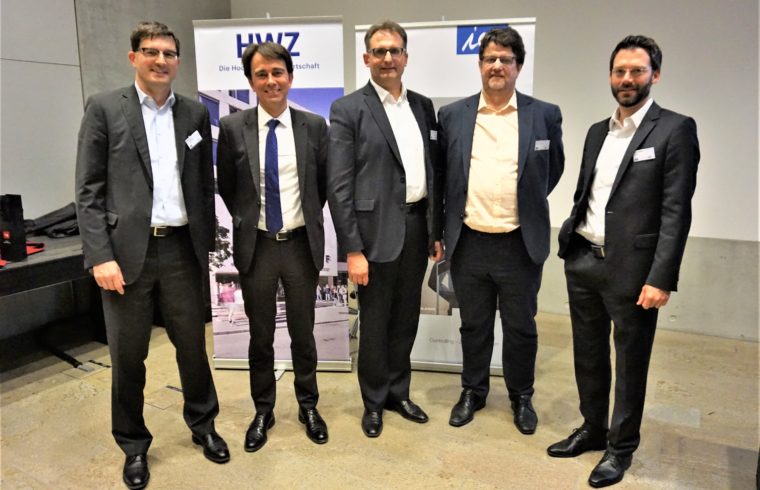 Protagonisten der GTS 2019 (v.l.n.r.): René Heule (Moderator), Philippe Scheuzger (Referent im Plenum), Prof. Dr. Thomas Rautenstrauch (Moderator), Prof. Dr. Reinhard Riedl (Referent im Plenum), Markus Steiner (ICV-Regionaldlelegierter CH).
Im ersten GTS-2019-Vortrag gab Philippe Scheuzger, CFO des Kantonsspitals Baden, eingangs einen Überblick über die aktuelle Situation des Schweizer Gesundheitssystems mit 8,4 Mio. Versicherten, 1,1 Mio. stationären Fällen, über 280 Spitälern und Kliniken, 1.800 Apotheken, 391.000 Beschäftigten, 34.000 Ärzten sowie 48 Krankenkassen. Er skizzierte eine "Diagnose der Wundstellen" und ließ dieser einen Therapieplan folgen, den er bildhaft mit "Entschlacken, Entwirren und alte Zöpfe abschneiden!" überschrieben hatte. Als wesentliche Trends im Gesundheitswesen nannte Scheuzger «ambulant vor stationär», Technisierung und Digitalisierung sowie Ökonomisierung. Entsprechend sei das Projekt "AGNES" entwickelt worden, in dem sich sein Krankenhaus vom Spital zum Gesundheits-Campus entwickeln soll.
"Big Data – das Gesundheitswesen als Showcase" war der anschließende Vortrag von Prof. Dr. Reinhard Riedl von der Berner FH überschrieben. Er machte den Zuhörenden deutlich, dass hinter dem "schillernden Begriff Big Data" eigentlich optimale Voraussetzungen für ein besseres Gesundheitswesen stecken. Das alleinige Vorhandensein vieler Daten sei noch längst kein Asset. Für deren erfolgreiche Nutzung sei zunächst ein breites "Systemverständnis zwingend notwendig". Es bestehe ein Bedarf vor allem an Skills und an interdisziplinärer Zusammenarbeit. "Weil so viele vorhandene Daten einfach noch gar nicht genutzt werden, sterben noch immer zu viele Menschen", meinte Prof. Riedl in seinem spannenden Big-Data-Vortrag.
Den beiden Vorträgen im Plenum schlossen sich zwei parallele Breakout Sessions an. In seiner Session gewährte David Bosshard, CEO der Clienia-Gruppe, einen "Blick unter das Nervenkostüm der Psychiatrie". Einem höchst interessanten und gut verständlichen Einstieg in diesen Bereich der Medizin ließ er fundierte Ausführungen über die spezifischen Herausforderungen in der Psychiatrie folgen. Deutlich wurde, dass aus den genannten Spezifika auch spezielle Herangehensweisen in der wirtschaftlichen Steuerung folgen.
Die Perspektive der Krankenkassen stellte Sanjay Singh, Leiter Konzernbereich Leistungen & Produkte, Mitglied der Konzernleitung, CSS Versicherungen, in seinem Vortrag "Leistungskostenmanagement und -controlling einer Krankenversicherung" vor. Beim Thema Kosteneinsparungen ist bei den Krankenkassen die Digitalisierung ein starker Treiber. Vor allem in der Administration liegen große Einsparungspotenziale durch Automatisierung, Verschlankung von Prozessen, gepaart mit Robotics und agilen Methoden.
Daniel Boller, CFO, Mitglied der Geschäftsleitung, Spitex Zürich Limmat AG, unterstrich in seiner Session die These seines Vortragstitels, "Kosten der Spitex als Spielball der Politik": Zu verhalten sei die Förderung aktueller Entwicklungen wie eHealth oder elektronische Patientendossiers durch die Politik. Fortschritte und damit auch Kostenreduktionen ließen sich schneller erreichen. Für lebhaftes Interesse der Zuhörenden sorgte ein weiterer Vortragspunkt, als Boller von der begonnenen fundamentalen Transformation des Pflegeunternehmens hin zu selbstorganisierten Teams berichtete. Ein höchst spannendes Thema, mit dem sich auch unser ICV Fachkreis "Future of Work" befasst.
André Kuster, Bereichsleiter Rechnungswesen/Controlling, Heime Uster, ist Mitglied im ICV-Branchenarbeitskreis Gesundheitswesen CH und natürlich auch persönliches Mitglied im ICV. In seinem Vortrag zum Thema, "Schwankende Einnahmen – Wie ich meine Kosten unter Kontrolle halte am Beispiel des Pflegeheimes", stellte er aus seiner Arbeitspraxis eine ganze Reihe konkreter, erfolgreich angewendeter Maßnahmen vor. Gerade diese Einblicke in den operativen Alltag schätzten viele GTS-Besuchende sehr hoch ein.
Viele weitere Gelegenheiten zum Erfahrungsaustausch und zum Networking bot die GTS 2019 auch in den Pausen und beim Farewell Apéro. Gratulation dem ganzen GTS-2019-Team zum gelungenen Neustart! Dieser lässt Vorfreude an der GTS 2020 aufkommen, über deren Terminierung wir natürlich rechtzeitig informieren werden.
The Health Care Conference Switzerland – GTS 2019 on March 28 in Zurich was a very successful restart of this event after several years of interruption. Organized together by the University of Applied Sciences in Business Administration Zurich (HWZ) and the ICV, more than 70 guests experienced a professional conference with first-class speakers.
The conference was moderated by Prof. Dr. Thomas Rautenstrauch, since 2009 Head of the Center for Accounting & Controlling, since January 2019 Head of the Department Business Analytics & Technology and Member of the HWZ School Management, and René Heule, Head of ICV sector work group Health Care Switzerland, Head of Finance and Controlling / Member of the Executive Board, GaleniCare Management AG.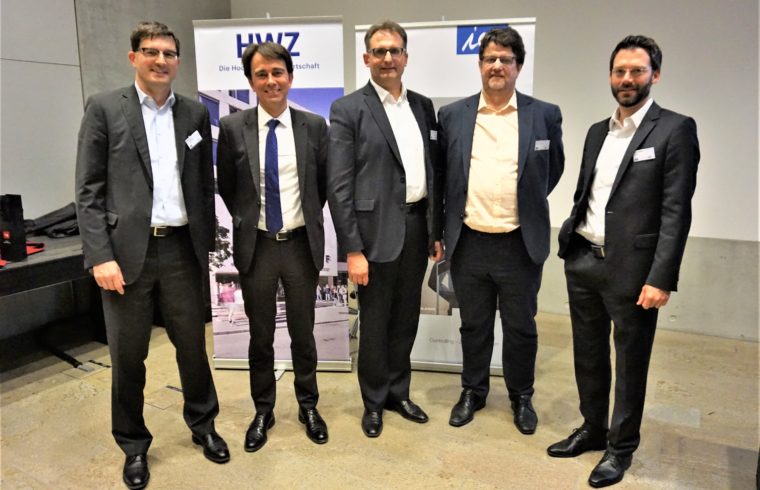 Protagonists of the GTS 2019 (from left to right): René Heule (moderator), Philippe Scheuzger (speaker in plenary), Prof. Dr. Thomas Rautenstrauch (moderator), Prof. Dr. Reinhard Riedl (speaker in plenary), Markus Steiner (ICV Regional Delegate CH).
In the first GTS 2019 presentation, Philippe Scheuzger, CFO of the Kantonsspital Baden, gave an overview of the current situation of the Swiss health care system with 8.4 million insured persons, 1.1 million inpatient cases, over 280 hospitals and clinics, 1,800 pharmacies, 391,000 employees, 34,000 doctors and 48 health insurance companies. He sketched a "diagnosis of wounds" and let it follow a treatment plan, which he described pictorially with "clean, detangle and trim old braids!" Scheuzger named "outpatient instead of inpatient", technologization and digitization as well as economization as key trends in the health care sector. Accordingly, the project "AGNES" was developed, in which his hospital is to develop from a hospital to a health campus.
"Big Data – health care as a showcase" was the next speech by Prof. Dr. Reinhard Riedl by from Bernese FH. He made it clear to the listeners that behind the "dazzling term Big Data" there are actually optimal conditions for a better health care. The mere presence of much data is far from being an asset. For their successful use, first a broad "understanding of the system is absolutely necessary". There is a need above all for skills and interdisciplinary cooperation. "Because so much existing data is simply not being used, too many people are still dying," said Prof. Riedl in his exciting Big Data talk.
The two presentations in plenary session were followed by two parallel breakout sessions. In his session, David Bosshard, CEO of the Clienia Group, granted a "look under the psychiatric nerves". He gave a very interesting and well-understandable introduction to this area of medicine, followed by well-founded explanations about the specific challenges in psychiatry. It became clear that special approaches for the business management can be drown from these specifics.
Sanjay Singh, Head of Group Services & Products, Member of the Executive Committee, CSS Versicherungen, presented the perspective of the health insurance companies in his speecg entitled " Service cost management and controlling of a health insurance ". When it comes to cost savings, digitization is a strong driver for health insurance companies. Especially in the administration, there is a great potential for savings through automation, streamlining of processes, coupled with robotics and agile methods.
Daniel Boller, CFO, member of the Management, Spitex Zurich Limmat AG, underlined in his speech the thesis of his speech's title, "Costs of Spitex as a plaything of politics": The promotion of current developments such as eHealth or electronic patient dossiers by the politics should be restrained. Progress and therefore cost reductions could be achieved faster. Another keynote point for the audience was the Boller's lively interest shown when he talked about the fundamental transformation of the nursing company into self-organized teams. A highly exciting topic that our ICV expert work group "Future of Work" also addresses.
André Kuster, Head of Accounting / Controlling, Heime Uster, is a member of the ICV sector work group Health Care Switzerland and of course also an individual member of the ICV. In his speech on " Fluctuating revenue – how do I keep my costs under control using the example of a nursing home?", he presented a whole series of concrete, successfully applied measures from his work experience – precisely these insights into daily operations that many GTS participants valued very highly.
The GTS 2019 also offered many other opportunities for experience exchange and networking during breaks and the farewell aperitif. Congratulations to the entire GTS 2019 team for a successful restart! We're looking forward to the GTS 2020 – we will of course inform about the date in good time.