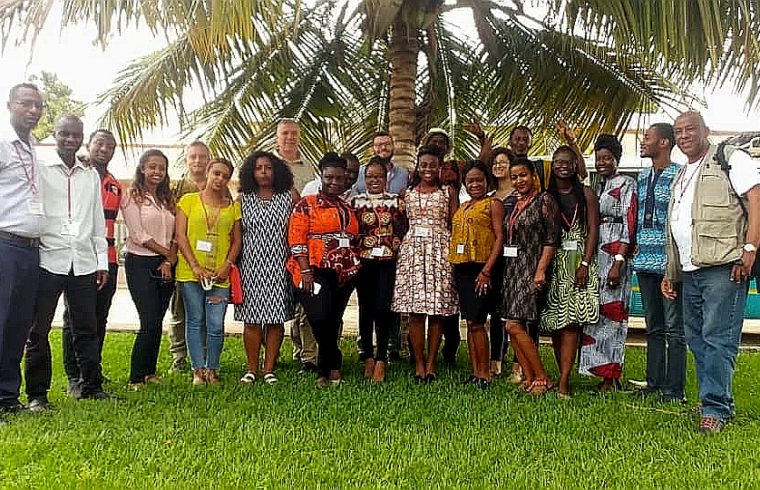 Auf einer Lernreise "My Region is the Lab" durch Ghana war der Leiter des ICV-Kommunikationsteams, Hans-Peter Sander, in der vergangenen Woche. Gemeinsam mit 20 GründerInnen aus Ghana, Äthiopien und Senegal besuchte er bei "field visits" in der nördlichen Region Tamale Startups und Inkubatoren genannte Gründerzentren im ländlichen Raum. In der Lernreisewoche entwickelten die afrikanischen Teilnehmenden unterstützt von ghanaischen sowie deutschen Experten in einem 2-tägigen Bootcamp ihre Gründungskonzepte weiter. Am Ende der Reise präsentierten sie in einem Coworking-Space in Kumasi, Hauptstadt der Ashanti-Region im Süden von Ghana, in einem so genannten Pitch ihre Projektideen.
Einladender Gastgeber war die Innovation Factory der Deutschen Gesellschaft für internationale Zusammenarbeit (GiZ). Die Lernreise fand im Rahmen des GiZ-Projekts "My Region is the Lab" statt. Sander nahm als Vertreter des Ammersee Denkerhaus – Coworking Space in Dießen teil, das er Anfang 2013 mitgegründet hat und seitdem als eines der ersten Coworking-Spaces im ländlichen Raum mitführt. Unter den vier deutschen Gruppenteilnehmern waren auch zwei Vertreter von "Silicon Vilstal", einer niederbayerischen Initiative für gesellschaftliche Innovation und für die Nutzung digitaler Chancen ländlicher Regionen.
Mit einer Flut von Eindrücken und neuen Einsichten ist Sander aus einer faszinierenden Welt zurückgekehrt. Seine erste Afrika-Reise hat auch völlig neue Erkenntnisse gebracht. Er ist mit sehr gut ausgebildeten, hoch motivierten, aufgeschlossenen, weltoffenen, lebenslustigen Menschen zusammengetroffen, voller Selbstbewusstsein und Selbstvertrauen.
In a study trip "My Region is the Lab" to Ghana last week participated the Head of the ICV Communications Team, Hans-Peter Sander. Together with 20 founders from Ghana, Ethiopia and Senegal, during so called "field visits" he visited start-up centers and incubators (called "founder centers") in rural areas of the northern region Tamale. During the learning week, the African participants, supported by Ghanaian and German experts, further developed their founding concepts in a 2-day boot camp. At the end of the trip, they presented their project ideas in a co-working space in Kumasi, the capital of the Ashanti region in the south of Ghana, in a so-called pitch.
Inviting host was the Innovation Factory of the Deutsche Gesellschaft für internationale Zusammenarbeit (GiZ). The learning journey took place as part of the GiZ project "My Region is the Lab". Sander participated as a representative of the Ammersee Denkerhaus – Coworking Space in Dießen, which he co-founded in early 2013 and has led since then as one of the first coworking spaces in rural areas. Among the four German group participants were two representatives of "Silicon Vilstal", a Lower Bavarian initiative for social innovation and the use of digital opportunities in rural areas.
With a flood of impressions and new insights, Sander has returned from a fascinating world. His first trip to Africa has also brought completely new insights. He has met well-educated, highly motivated, open-minded, cosmopolitan, fun-loving full of self-confidence people.