3rd ICV Congress of Controllers – What does controller need to be pro and fit?
This year, as well as the last one, 20th of May was all about Controllers in Serbia. The 3rd ICV Congress of Controllers with the main topic "Controller as a Business partner" attracted the whole army of controllers who were interested to hear thoughts and experiences of their fellow colleagues and speakers. There were 350 Controllers and CFOs. Congress was opened by Bojan Šćepanović, president of ICV Serbia and director of Management center Belgrade. After a quick introduction and greetings to participants he offered center stage to Milica Šćepanović, who was Master of Ceremonies.
Jovana Kondić's  company Mercator S recently faced the integration with another company called IDEA. She explained what was the role of the controller during that process. Jovana talked about strategy of the company, organisational culture, synergy and information systems. Company values are its greatest strenghts which lead to successful integration.
Next speaker was Milan Bukumirović, Head of finance at Knjaz Miloš. During his presentation he discussed what are the main roles of controllers. In his opinion, controller should be:
Navigator
P&L Gate keeper
Performance booster
Support
Change manager
The 3rd speaker was Miša Lukić, symbol of marketing in Serbia. Miša talked about profit. If a company wants to make profit, it should be Pro and Fit. Pro means Know How and fit means Know Who.
We had a great pleasure to hear from Saša Trandafilović who is a Head of budgeting sector in the Ministry of Defence. He showed up in his military uniform and in his presentation he showed many similarities between controlling in companies and in the government (military). Only difference perhaps was different terminology.
Next speaker was Andreas Graf, CFO at VIP Mobile. Andreas explained how digital controlling looks like and what are its benefits.
Aleksandra Paunić, Head of controlling at Wiener Städtische Insurance, presented how the controller acts as a business partner in this industry. Interesting fact was that insurance was introduced to Serbia by Miloš Obrenović (Serbian king at that time). Besides insurance, Aleksandra talked about controlling processes, reports, KPIs and planning.
Tatjana Lukić, Regional sales director at Microsoft, talked about what she means by sales controlling. Tanja's job is very challenging because she has to travel a lot. She is responsible for 24 countries from Malta and Cyprus to Mongolia and Uzbekistan. Main purpose of sales controlling is…to bring us to green (variences).
Ljubomir Skupek, Head of controlling at Raiffeisen Bank revealed where controlling data travels to and from. "Board of directors is the mother and the father…", "Accoutning is the older brother…" and "IT is your best friend from school" are some of his thoughts.
Nikola Petreski, Controlling and risk management director at Telenor proved that to be a better business partner, controller needs to have certain characteristics:Integrity, Humbleness, Simplicity.
Dalibor Jevtić, Head of treasury and operation finance at Victoria Group, believes that for a successful controlling you need:Team work, Focus, Flexibility. He finished his presentation with a joke where he put an equal sign between a good fairy and the controller.
Nenad Kovačević, Head of finance at Tetra Pak SEE, talked about changes. Changes are something that we frequently face when we want to go shoulder to shoulder with the time. Whether it is about controlling or your personal life, every change demands learning. On that path the most importants thing is that you have support.
The last speaker was Ivan Tadić, Head of controlling at Hemofarm. Ivan believes that controller is an internal consultant and a little bit internal auditor. Because Ivan started his career as an auditor, he came across interesting findings. He drew paralel line between german and russian view of controlling.
Congress was a great opportunity for controllers to meet coleagues from different companies and to exchange experiences.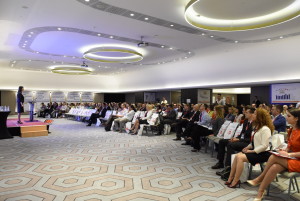 Serbian Controlling magazine
Meanwhile the ICV Serbia presented the third issue of Controlling magazine. After Germany and Poland it's the next country where the ICV has its own pages in a controlling magazine. The main topic of the magazine is management reporting – one of the tasks of each controller. Therefore, the publishers are very pleased to present Professor Rolf Hichert, a real report magician and the author of the famous SUCCESS rules.