After eleven years of the International Controlling Association in Poland, there are some huge changes in the international and domestic structures. In April, during the 40th Controller Congress in Munich, the Management Board has partly changed: among other changes Dr Adrianna Lewandowska, member of the Board, resigned from the function, but she remains in the structures of the International Controlling Association as Executive Board Advisor. She will be also responsible for internationalization and the development of the Association in non-German speaking countries. Małgorzata Podskarbi from Volkswagen Poznań Sp. z o.o was elected as a new Board Member. It will be now her responsibility to raise the number and to take care of the corporate members of the non-German speaking countries.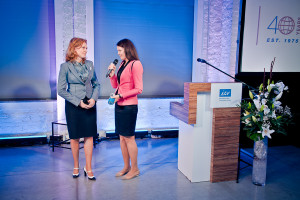 Dr Adrianna Lewandowska with Edyta Szarska
Not only abroad, but also in Poland, there are some changes going on in the Association. Edyta Szarska from Controlling Partner in Warsaw, who is also a long-time member of the Association and active member of the Board of the Work Group Warsaw, will be now in charge of all organizational issues. Dr Adrianna Lewandowska, who started the ICV in Poland and has organized all of the 9 International Controller Congresses, focuses now on her activities for family businesses: "With the convention of a deep sense, I have developed structures of ICV Association in Poland and Europe. Today, I would like to focus on working with family businesses, which over years have become very important to me. Together we discover, look for growth potential and stability, strengthen the determination, and develop passion for family businesses owners and successors. They have really a very difficult moment in front of them, which they need to face; generational change, which becomes… the final test of the greatness of the whole company. Starting with Business Discovery, I had to move on to the Lewandowska & Partners, because the scale of our work required partners' cooperation. Business partners invited to cooperation are the best practitioners and strategists for family business on the international market. Together, we create new value of advisory services for family businesses" – explains Dr Adrianna Lewandowska.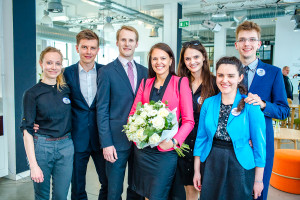 Organizational Team after the Congress