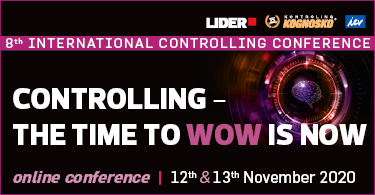 Due to the "new normal" the 8th ICCC – International Controlling Conference Croatia takes place online – for the first time totally in English and thus with a GLOBAL outreach. Many international ICV experts share their knowledge and experience at the conference and discuss current challenges and chances, among them:
Jasmina Očko (Croatia), Controlling consultant, Kontroling Kognosko, Head of the ICV work group Croatia I
Dr.Heimo Losbichler (Austria), Professor of Controlling, University of Applied Sciences Upper Austria, ICV Member of the Board
Tomasz M. Zieliński (Poland), Controlling Director at VOX Capital Group and ICV Delegate Poland
Valentin Usenkov (Russia), Founder of USENKOV.PRO Project, Partner of CA Controller Akademie, Usenkov.pro, Head of the ICV work group Kaliningrad (RUS)
Axel Ehberger (Spain), Controlling consultant and trainer, Elexa-Controlling, Head of the ICV work group Spain
Edyta Szarska (Poland), IBCS® Certified Trainer, Controlling Partner, Head of the ICV International Work Group
The theme of this year's conference is "Controlling: The Time to Wow is Now" which was inspired by the economic crisis caused by the COVID-19 pandemic that was a trigger for shifting the focus on controlling. This year is marked by significant challenges, quick exchanges and new solutions. This is the time for controlling to show the best it has to offer!
More information, agenda and registration: https://www.icv-controlling.com/en/events/regional-events/international-controlling-conference-croatia/agenda.html