On the afternoon we started with 3 topic clusters. We wrote from the cluster A – Digital controlling – reorientation of the corporate management.
Ralph Treitz, CEO, Trufa Inc., San Bruno, CA and Heidelberg: Digital Enterprise – Digital Finance – What is Digital Controlling?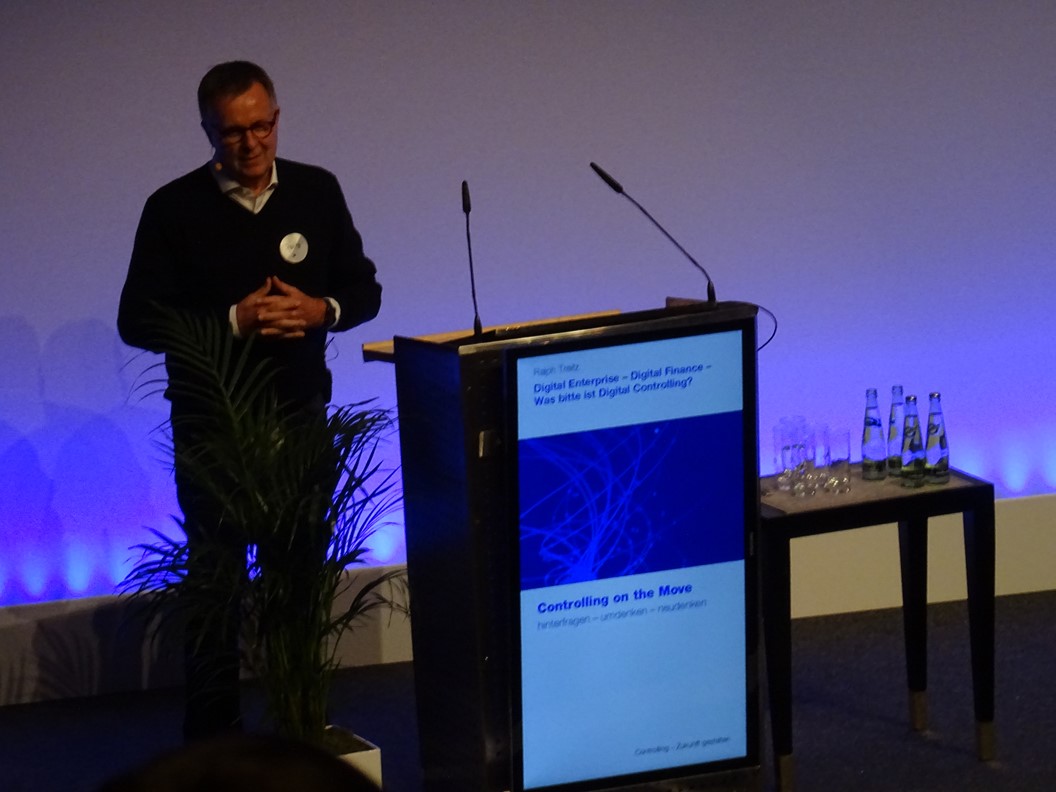 Here Ralph Treitz, CEO, Trufa Inc., San Bruno, CA, USA and Heidelberg, started with his speech "Digital Enterprise – Digital Finance – What is Digital Controlling?" Together with Prof. Seufert he is the Head of expert work group "BI/ Big Data and Controlling" at the ICV.
He gave 2 examples from the area: "Predictive Analytics". He then came to characteristics and results of digitalization.
– Data Economy: Insights are derived primarily from data, not from expert knowledge; Experts verify findings gained from the data
– Mathematics for the generalization of problem solutions: no implementation of individual questions; free linking of information allows new spontaneous questions; mathematical links of data instead of statically functional programming;
– Consistency of information: Linking the data and processor from the sensor to the strategy can only be established on the basis of data and mathematical data link, not on the basis of consistent functional programming
– Decentralization: Data storage is not centralized. Links are "spontaneous".
– Manufacturer dominance of functional offers is at risk – and the providers respond: Urging the big players to gain control of the data. New providers appear.
Chances of digitalization for finance and controlling
– Digitalization enables a huge increase in efficiency
– Digitization enables new spheres of influence – demand for physical means of production is falling – value of knowledge about information generation and influencing results increases.
– Finance & Controlling knows which measures are necessary to achieve economic goals,  can control the entire value added of data from the sensor to the strategy, can master the decision-making process through the integration of planning and controlling.
– From this, perhaps the claim to more leadership responsibility could be deduced
The use of digitization requires new skills (mental and manual redesign, farewell to craft (gathering and arrangement of information) and turning to industrial use of data, finding solutions to secondary problems (data warehouse, standardization of data), establishment of interdisciplinary teams (basic data science skills, cross-process knowledge, development of action alternatives).
If you would like to actively participate in this topic, you can become a member of the ICV expert work group "BI/Big Data and Controlling".
Muzaffer Yilmaz, Head of Controlling & Analytics, Mister Spex GmbH, Berlin: Everyday challenges and practical solutions in controlling at digital start-up companies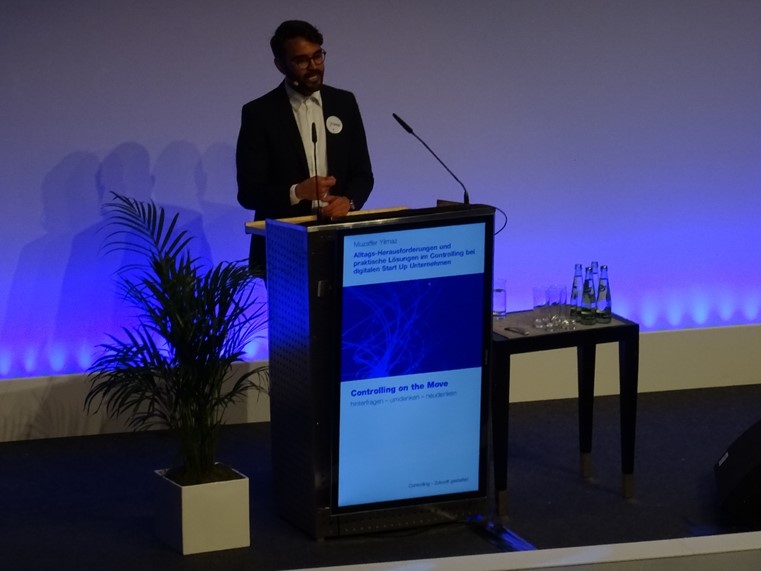 – Challenge: data amount
The availability of an incredible amount of data in a digital business does not automatically mean that you are "data driven". The central element is the link between the ERP system and the data warehouse. Furthermore, there is additional data from the web pages, from additional tools, data from external service providers… The data warehouse is the one data source that allows a much more efficient handling of data. There are a variety of tasks around the topic of "data", the assignment must be clear (definition of key figures and dimensions, reporting, connection of data sources, evaluation of the technical infrastructure, sketching of the data vision, …).
– Ticketboard as an instrument in the praxis
Requests from day-to-day business, from projects and ad hoc target fulfillment come first to the Controlling & Analytics department. The requests are evaluated and prioritized for the entire team and then assigned individually. It is a realistic and feasible deadline to inform the internal customer.
– Perspective for the controller in a digital start-up company
Responsibilities in the originally separated department Controlling and Analytics had grown, were tied to people and content. A matrix of tasks (analysis, understanding, reporting, taxation) and internal customers (marketing, operations, product, …) were created. The "internal customer" domains got a new dedicated partner. This extends the area of responsibility of the cooperation across the entire breadth of the task portfolio.
Marcel Gnoth, Senior Manager Financial Planning & Analysis, AIDA Cruises, Rostock: Financial management at AIDA Cruises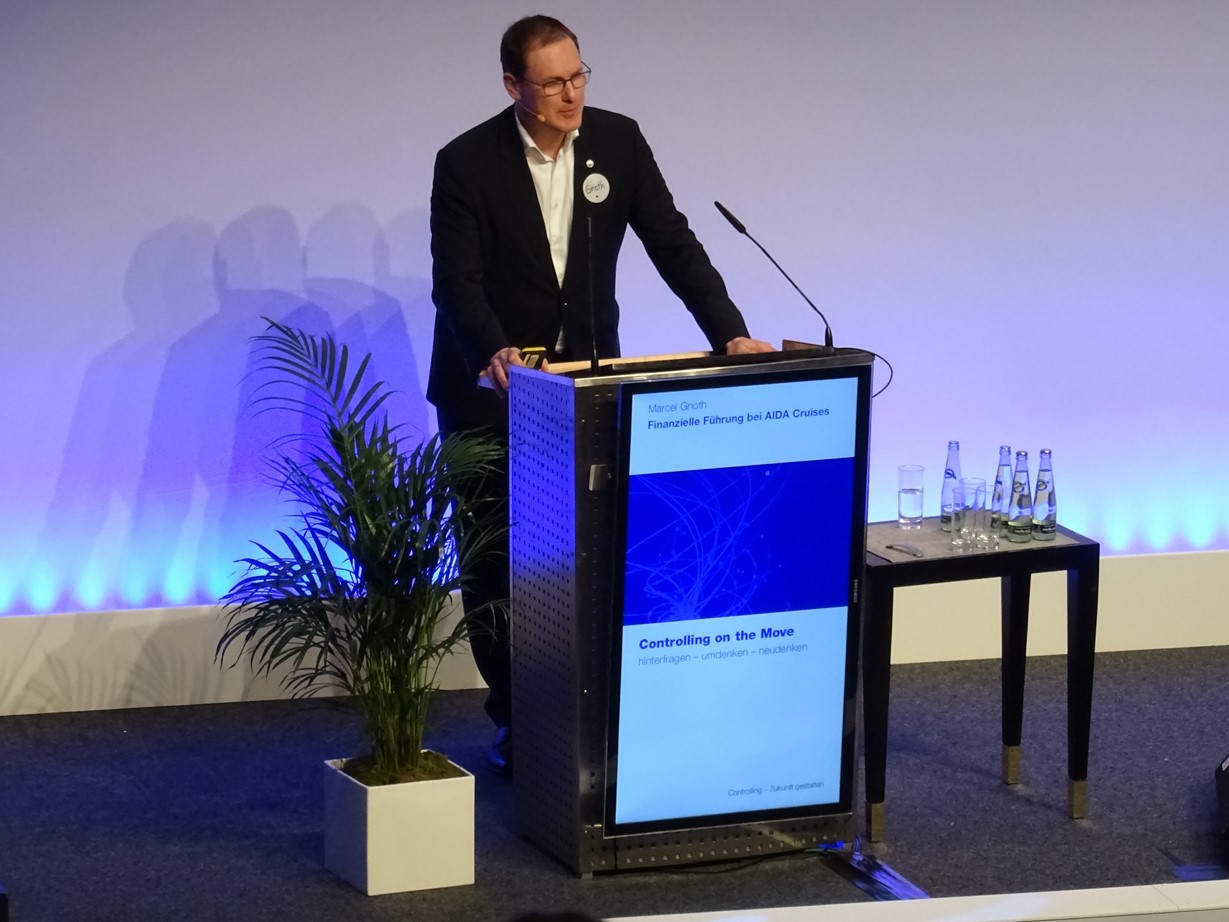 – From strategy to plan – thinking in scenarios: The shipping company is very strongly asset-driven. When will which ship enter service? The shipyard slots are limited. Where should be the future destinations? Which customer groups do we want to serve and how?
Since 2015 – Shared Services Organisation, each branch has its responsibilities. So it's a Matrix organization now.
– Commercial Analytics in praxis: Commercial Analytics (CA) enriches the area of responsibility of the finance department and has been integrated as a separate entity in the finance area, closely linked to the controlling unit. The finance function is divided into Accounting, Reporting, Controlling (Forecasting, Szenario-Planning, Business-Cases, Consolidation Brand/Group) and Commercial Analytics.