"Modern controlling – well-founded and proven in practice" was the motto of the ICV conference "Controlling Advantage Bonn – CAB 2017" on November 16. The work groups of the West Germany had invited to the Gas-Wasser-Zentrum in Bonn. This year, the CAB  offered an interesting cross-cutting with lectures on the possibilities and limitations of municipal financial planning as well as on the reduction of bureaucracy. This was followed by presentations on controlling and steering after a carve-out, energy controlling, project management, digital transformation & corporate management and finally the voice as an important tool for successful controllers.

The first speaker was Frank Stein, treasurer of the city Bergisch-Gladbach. Under the heading "Desire and Reality", the experienced administrative expert, who had recently moved from Leverkusen to Bergisch-Gladbach as a treasurer, discussed the possibilities and limitations of municipal financial planning. He dealt clearly with legal requirements and planning risks such as unscheduled issues and political guidelines. "Municipal finance planning can only ever be a snapshot. If it is sewn on edge, the risk of failure is very high," says Frank Stein.
The second lecture of a designated administrative expert also brought enlightening to the audience. Prof. Dr. Gunnar Schwarting (pictured right) from the German University for Administrative Sciences in Speyer devoted himself to the issue of reducing bureaucracy with the provocative-looking question "White ointment or serious effort?". He went closer to the federal government's programs to reduce bureaucracy and its results as well as benefits. "Bureaucracy is necessary on the one hand, but annoying in excess," says Prof. Schwarting. "Steps to reduce bureaucracy are therefore welcome, but are perceived by the addressees limited. Diverse possibilities for reducing bureaucracy are offered by e-Government, which is progressing rather sluggishly. In addition, legislators and administrations need to scrutinize the impact of bureaucratic rules more than in the past. In any case, much remains to be done."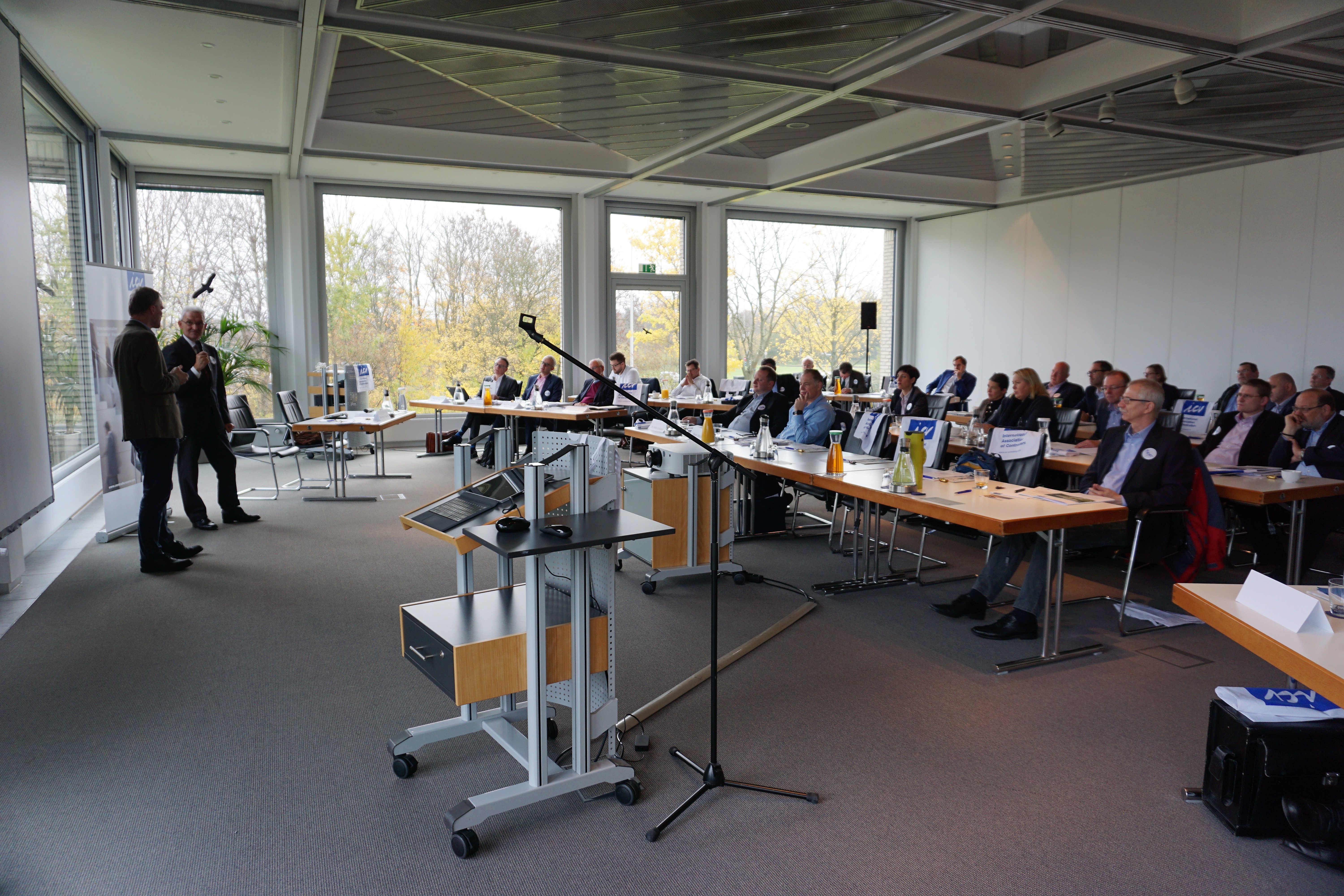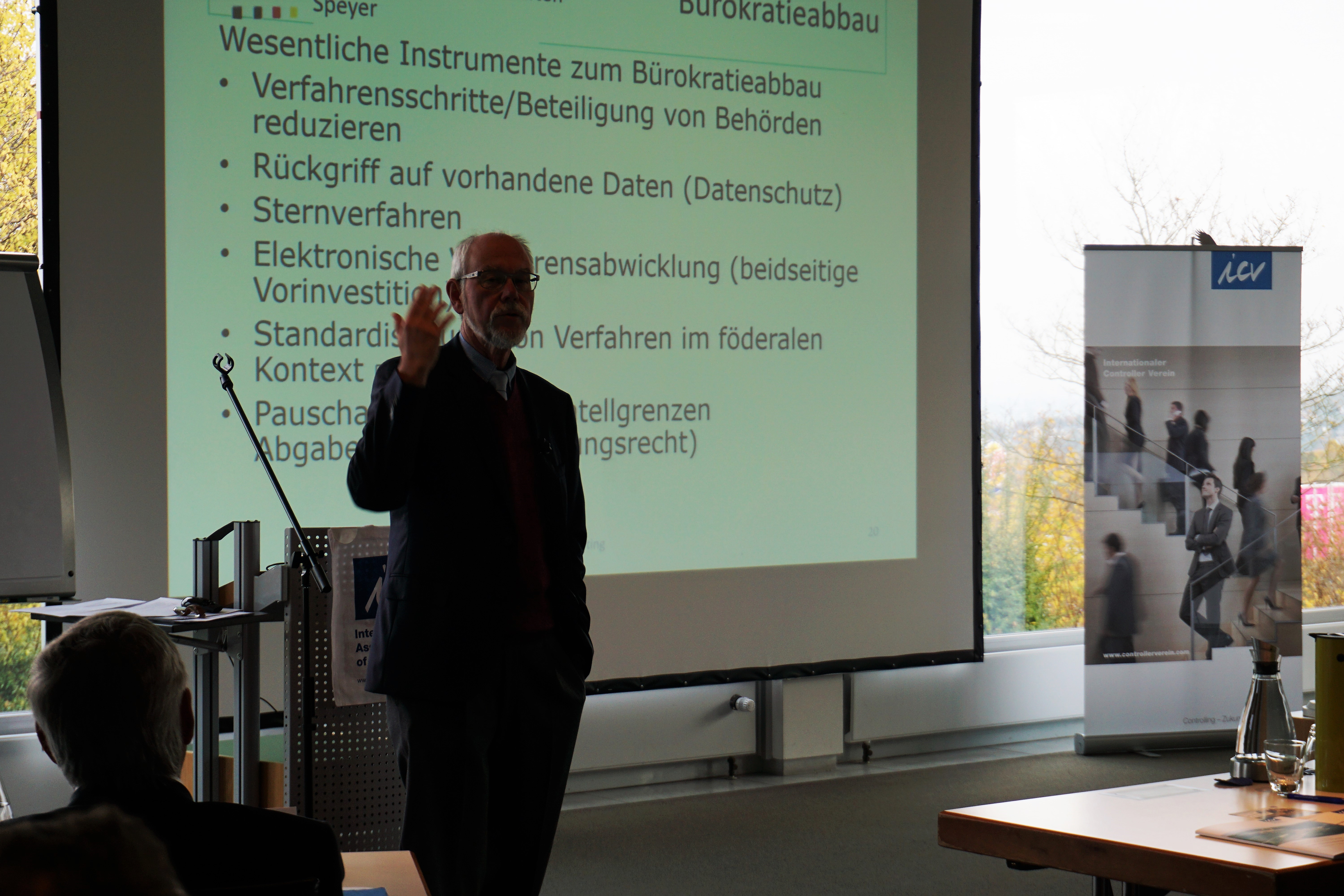 Stefan Henting, Director of Financial & Management Accounting at Lufthansa Global Business Services, addressed the challenges of controlling and steering after a carve-out in his lecture titled " From holding company allocation to service contract in accounting". He described the embedding in a holistic management concept as a critical success factor as well as the introduction of a KPI / SLA concept and explained the calculation bases for a service catalog. His talk also focused on cultural change, price models and external benchmarks as a benchmark for pricing. He formulated a following message: "Free according to Deming and Printers: Deming's, In God we trust – Other bring data!" referred to Peter Drucker's questions: "What exactly does the customer want and how satisfied are they with the performance?"
Energy controlling was the next topic of the CAB 2017. Mike Schulze, Research Director Controlling & Innovation EBS University of Economics and Law, EBS Business School, and Peter Müllers, Head of Energy & Resource Management, thyssenkrupp Rasselstein GmbH, shared the basics and practical implementation on the example of the company. They explained the essential elements and tasks, consumption recording and data management, as well as energy performance indicators and benchmarking and the organizational implementation. "Rising energy costs and legal requirements have led in recent years to the fact that the cost of energy in companies has received more attention and is targeted by the establishment of an energy controlling," was their message. "Effective energy controlling can significantly reduce energy consumption and associated energy costs in the company."
The appeal in the title of his lecture, explained afterwards Prof. Dr. Ing. Manfred Esser in detail: "Managing projects – involving stakeholders!" He dealt with project-oriented organization and change management and focused on the development of organizational competence in project management. Further questions were devoted to setting up project controlling structures and controlling transformation programs and large-scale projects. "The development and anchoring of a common project management understanding is rather a change process and not a method project," said Prof. Esser.
The ICV Controlling Conference in Bonn also focused on a top-class presentation this year about the digital transformation and its effects on corporate management. Martin Schulte, Head of CFO Advisory, SAP Germany SE & Co. KG, explained that while the digital revolution fundamentally and sustainably changes, the resulting opportunities are not self-evident. His hypothesis: The digital revolution requires active digital transformation from companies and employees. Schulte explained that Big Data, IoT and business networks offer opportunities for companies and demand changes from them. Digital, real-time-based business models required that real-time corporate governance, planning and management would also be actively transformed. "Through digital transformation, controlling becomes more "entrepreneurial" and opens up new opportunities – but also requires development," Schulte says.
The CAB closing lecture by Monika Klinger, respiratory, voice and speech trainer, made the audience realize that "the voice is the key to success". A good voice is often listened to, it conveys competence, trust and credibility. It depends on the "acoustic ego" whether you convince someone or not. Thus, the voice is crucial for success or failure – in the private life as well as in the professional environment. "The voice is our instrument. Learn to play it and reach and excite your listeners", was the message of Monika Klinger.