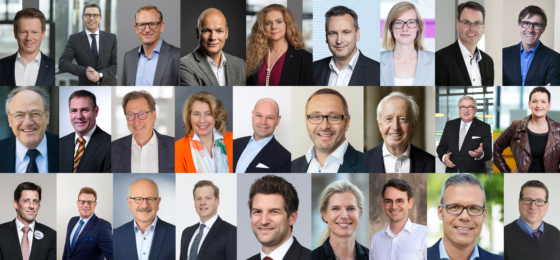 Der ICV Congress der Controller ist das größte Fachtreffen für Controlling und Unternehmenssteuerung in Europa. Auch bei der 45. Ausgabe in diesem Jahr werden wieder viele Fachleute mit noch mehr Expertise im Gepäck erwartet, die sie gerne vermitteln – sei es in Vorträgen, bei Podiumsdiskussionen oder in den Themenzentren oder fernab der Bühne in Gesprächen in der Pause, beim Essen oder beim legendären Controllers' Biergarten: am 27. und 28. April trifft sich wieder das "Who-is-who" des Controllings aus aller Welt in München. 27 Redner und Moderatoren aus der Controlling-Community werden die Besucher des Congresses erleben.
Die Vortrags-/Diskussionsthemen im Überblick: 
Live-Talk: Entwicklung des Controllings
Digital Finance in einem dezentralen Geschäftsmodell (DHL Supply Chain)
Artificial Intelligence – from Science to the Driver of the 4th Industrial Revolution
Verleihung des ICV Controlling Excellence Awards 2020
KI im Controlling – Potenziale, Entwicklungsstufen, Anwendungen
Automatisierung und Digitalisierung von Finanz-Prozesse
For a better Performance Management – Beispiele für Künstliche Intelligenz bei BASF
Agile Methoden in der Praxis: Scrum als Steuerungsinstrument für die tägliche Arbeit im Controlling
Future of Work: Digitalisierung und Agilität – im Controlling/bei Controllern
Als Controller/in den Wandel gestalten
Performance Management: Wie man mit Controllern Spaß an der Veränderung haben kann – oder warum Stärken so wertvoll im Controlling sind
FAMOS 2025 – Strategie entwickeln und umsetzen im Mittelstand
Herausforderungen im globalen Umfeld
Digitalisierung im 3-stufigen Vertriebsweg am Beispiel der Branche Sanitär/Heizung/Klima/Elektro
Sustainability – The Moment for Bold Leadership is Here and Now
Transformation des Controllings in einer digitalisierten & datengetriebenen Zeit
Transformation & Disruption: Digitaler Wandel bei Zeppelin
Du schaffst, was du willst!
Die Referenten und Moderatoren vertreten folgende Unternehmen und Institutionen:
Deutsche Bahn AG
Horváth AG
Blanco Group
DHL Supply Chain
WHU – Otto Beisheim School of Management
DATEV eG
EBS Universität
KPMG Advisory GmbH
BASF SE
CA Akademie AG
Deutsche Lufthansa AG
SAP SE
Bekleidungsbranche (Marc O'Polo)
Zentis GmbH & Co.KG
Hansgrohe SE
Wilhelm Gienger KG
FH Münster
A1 Telekom Austria
Zeppelin GmbH
Sportagentur Fasching
Fraunhofer-Institut für Arbeitswirtschaft und Organisation IAO
Institut für Arbeitswissenschaft und Technologiemanagement IAT der Universität Stuttgart
Acatech – Deutsche Akademie der Technikwissenschaften
FH Oberösterreich
The ICV Congress of Controllers is the largest expert meeting for controlling and corporate management in Europe. Also at the 45th edition this year, many experts with even more know-how are expected and they will be happy to share it – be it in the speeches, at panel discussions or in the topic clusters or during conversations during breaks, at dinner or away from the stage at the legendary Controllers' Beer Garden: on April 27 and 28 the "who's who" of controlling from all over the world meets again in Munich. The Congress visitors will experience 27 speakers and moderators from the controlling community.
Topics of the speeches / discussions at a glance:
Live Talk: Development of Controlling
Digital Finance in a Decentralized Business Model (DHL Supply Chain)
Artificial Intelligence – from Science to the Driver of the 4th Industrial Revolution
Presenting the ICV Controlling Excellence Awards 2020
AI in Controlling – Potentials, Development Stages, Applications
Automation and Digitization of Financial Processes
For a better Performance Management – Examples of Artificial Intelligence at BASF
Agile Methods in Practice: Scrum as a Management Instrument for Daily Work in Controlling
Future of Work: Digitization and Agility – in Controlling / at Controllers
Shaping Change as a Controller
Performance Management: How to enjoy Change with Controllers – or why Strengthening Strengths is so Valuable in Controlling
FAMOS 2025 – Developing and Implementing a Strategy in the SME Sector
Challenges in the Global Environment
Digitization in the 3-stage distribution channel with the example of the industry plumbing / heating / air conditioning / electrical needs
Sustainability – The Moment for Bold Leadership is Here and Now
Controlling Transformation in a Digitized & Data Driven Time
Transformation & Disruption: Digital Change at Zeppelin
If You Want It, You'll Make It
The speakers and moderators represent the following companies and institutions:
Deutsche Bahn AG
Horváth AG
Blanco Group
DHL Supply Chain
WHU – Otto Beisheim School of Management
DATEV eG
EBS Universität
KPMG Advisory GmbH
BASF SE
CA Akademie AG
Deutsche Lufthansa AG
SAP SE
Bekleidungsbranche (Marc O'Polo)
Zentis GmbH & Co.KG
Hansgrohe SE
Wilhelm Gienger KG
FH Münster
A1 Telekom Austria
Zeppelin GmbH
Sportagentur Fasching
Fraunhofer-Instistut für Arbeitswirtschaft und Organisation IAO
Institut für Arbeitswissenschaft und Technologliemanagement IAT der Universität Suttgart
Acatech – Deutsche Akademie der Technikwissenschaften
FH Oberösterreich