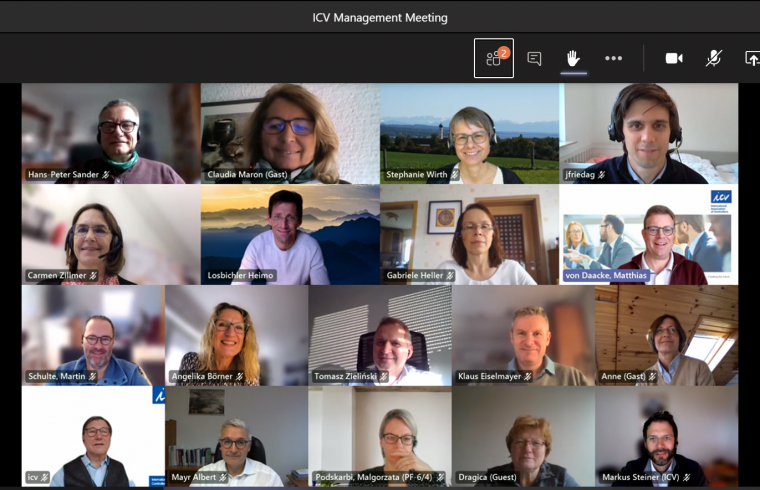 Zum ICV Management Meeting 2020 trafen sich am vergangenen Sonnabend (28. November) Führungskräfte aus fünf Ländern: Vorstand, Regionaldelegierte, Executive Advisors, Mitarbeiterinnen der Geschäftsstelle und Gäste.
Zu Beginn berichtete ICV-Vorstandsvorsitzender Prof. Dr. Heimo Losbichler von einem umfangreichen Arbeitspensum, das der Vorstand im zu Ende gehenden Corona-Jahr unter anderem mit elf Online-Vorstandssitzungen zu bewältigen hatte. Heimo Losbichler hob das erreichte Allzeit-Hoch bei den ICV-Firmenmitgliedschaften hervor. Er schilderte, wie der Verein seine Tätigkeiten nach Ausbruch der Pandemie ins Web verlagerte. Bis zum Jahresende sind dann z.B. insgesamt 39 Web-Seminare größtenteils von ICV-Mitgliedern für ICV-Mitglieder angeboten worden. Erfolgreich gearbeitet hat auch die ICV-Ideenwerkstatt. Für den Jahresbeginn 2021 kündigte Losbichler die Herausgabe eines Dreamcar-Berichtes mit dem Arbeitstitel "Controlling in times of downturn" an.
Wie der Vorsitzende erklärte, erwartet der ICV 2020 angesichts zahlreicher Event-Verschiebungen bzw. Ausfälle, die mit empfindlichen Umsatzverlusten einhergingen, dennoch ein ausgeglichenes finanzielles Ergebnis. Dies führte er auf ein entschlossenes Kostenmanagement und auf stabile Erlöse einzelner Bereiche zurück und dankte dafür allen ICV-Funktionären.
Die Beratungen der diesjährigen Management-Tagung orientierten sich an den fünf strategischen Schwerpunkten des ICV, die bei der großen Managementtagung Ende 2019 erarbeitet worden waren: Firmenmitgliedschaften, Young Finance Professionals, Bezahl-Content, Nachhaltigkeit und Digitalisierung.
Die Delegierten berichteten über die Arbeitskreisarbeit in den acht Regionen sowie in den ICV-Fachkreisen und über die online durchgeführten "Regionaltagungen". Vielerorts sind Arbeitskreistreffen auf virtuelle Meetings umgestellt worden. Im Kreis der Führungskräfte wurde noch einmal auf die Möglichkeit verwiesen, in den Arbeitskreisen die MS-Teams-Lizenz des ICV zu nutzen. Unterstützung bietet dafür die ICV-Geschäftsstelle.
Die aus den Regionen berichteten Erfahrungen zu den Corona-bedingt virtuell durchgeführten "Regionaltagungen" sind eine wichtige Grundlage für die Konzeption der ICV-Tagungen 2021. Von großer Bedeutung ist das Controlling-Highlight 2021, der 45. Congress der Controller am 26./27. April, und die zu diesem Zeitpunkt herrschenden Einschränkungen.
ICV Executive Advisor Jannis Friedag informierte anhand der "Transformation-Map Young Finance Professionals" über den erreichten Stand und das weitere Vorgehen. Das agile Vorgehen, Neues auszuprobieren und für den weiteren Weg auszuwählen, habe sich bewährt und für Klarheit über die nächsten Schritte gesorgt.
Breiten Raum nahm beim Management-Meeting die gezielte Nutzung der Business Plattformen LinkedIn und XING ein. Dabei wurden Erfahrungen des ICV Polen und vom Kommunikationsteam neu erarbeitete Guidelines für Funktionäre und Mitglieder vorgestellt. Die verstärkte Nutzung der sozialen Medien sowie die Neuorganisation der ICV-Kommunikation wurde neben den strategischen Schwerpunkten als zentrales Arbeitsfeld für 2021 definiert.
Executives from five countries met for the ICV Management Conference 2020 last Saturday (November 28): the Board, Regional Delegates, Executive Advisors, employees of the Office and guests.
At the beginning, ICV Chairman Prof. Dr. Heimo Losbichler reported of an extensive workload that the Board had to cope with in the corona year, including eleven online Board meetings. Heimo Losbichler highlighted the all-time highest number of the ICV corporate memberships. He described how the Association moved its activities to the web after the outbreak of the pandemic. By the end of the year, e.g. a total of 39 web seminars have been offered mostly by the ICV members for the ICV members. The ICV Think Tank has also worked successfully. For the beginning of 2021 Losbichler announced the publication of a Dream Car Report with the working title "Controlling in times of downturn".
As the Chairman explained, the ICV 2020 still expects a balanced financial result in view of numerous event postponements or cancellations, which were associated with significant sales losses. He attributed this to resolute cost management and stable revenues in individual areas, and thanked all ICV officials for this.
The discussions at this year's Management Conference were based on the five strategic priorities of the ICV, which had been developed at the big Management Conference at the end of 2019: corporate memberships, Young Finance Professionals, paid content, sustainability and digitization.
The Delegates reported on the work of the work groups in eight regions as well as in the ICV expert work groups, and on the "regional conferences" held online. In many places, work group meetings have been converted to virtual meetings. The executives once again referred to the possibility of using the ICV MS Teams license in the work groups – the ICV Office offers support.
The experiences from the regions about the "regional conferences", which are carried out virtually due to the corona, are an important basis for the conception of the ICV conferences in 2021. The controlling highlight in 2021, the 45th Congress of Controllers on April 26 / 27, is of great importance and the restrictions at that time.
ICV Executive Advisor Jannis Friedag used the "Transformation Map Young Finance Professionals" to provide information on the status quo and the next steps. The agile approach of trying out new things and choosing them for the further path has proven itself and provided clarity about the next steps.
The targeted use of the business platforms LinkedIn and XING took up a large part of the  Management Conference. The experiences of the ICV Poland and guidelines for officials and members newly drawn up by the Communications Team were presented. The increased use of social media and the reorganization of ICV communication were defined as a central field of work for 2021 in addition to the strategic priorities.