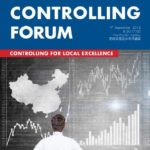 The 4th Sino German Controlling Forum (language: English) will take place on September, 9th in Shanghai. The conference is organized by China Controlling (www.chinacontrolling.com) and the German Chamber of Commerce in China, supported by ICV, CA controller Akademie and DUSA European Association. Flyer 4th Sino German Controlling Forum 2016 (PDF)
High-level speakers from the German industry in China share their best practices and provide practical insights at the forum. Keynote speeches and workshops include these topics:
Fast track reporting for HQ and local management
Forecast and planning in volatile business environment
Sales controlling for maintaining healthy growth
Transfer pricing & controlling
Lean management & controlling
Supply chain integration & inventory controlling
Confirmed forum speakers 2016 are:
Continental China: Cherrie Cen, Head of Central Controlling;
E.G.O. Components: Marc von Busse, Finance Director;
Schaeffler China: Francesco Ingarsia, CFO;
Shanghai Operations: Dr. Gerd Möhrke, Principal;
Wacker Chemie: Peter Richter, Head of Controlling;
UAES: Dr. Hans-Henning Toepper, Senior Director;
United Grinding: Jo Santens, General Manager;
Deloitte China: James Zhao, Partner;
E.G.O. Components: Helmut Schoeneberger, Managing Director Operations.
While operations in China are becoming increasingly complex, and competition is intensifying, there is a shortage of qualified controllers as well as a lack of knowledge of professional controlling practices. The Sino-German Controlling Forum wants to raise the awareness for the role controlling plays in an organization and simulate the exchange of the latest controlling trends and approaches among the Sino-German business community.
More information
Online registration